Which bug cleaner spray is best for shifting dead insects from bodywork and glass?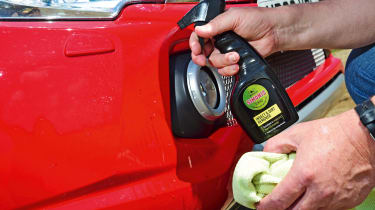 Summertime is prime time for flying insects with a death wish to splatter grilles, screen and wing mirrors with messy debris.
If you leave them for anything more than a day or so, you'll need a specialist cleaner to remove them without threatening the clearcoat. Even if you have avoided the worst of the bugs this year but are planning a driving holiday somewhere hot this summer, you'd do well to pack a bug cleaner alongside the bucket and spade. The longer the bugs are baked on to the car, the harder they will be to remove. Plus it's good to keep the screen clear.
So which is the best cleaner to step in when washers, wipers and a wet cloth can't cope? We sprayed on a bunch of products to find out. 
How we tested them
Our test has evolved in much the same way as the one for wheel cleaners. Using a combination of limited wiping and gentle rinsing, we searched out the solutions that had the most effect on the baked-on bugs without the help of a pressure washer or hard rubbing.
We tackled three bug-splattered sections of the car – headlight, bonnet lip and wing mirror – twice, monitoring progress after each attempt. We also worked the price into the final ranking, but the emphasis was on cleaning.
Verdict
As is so often the case with this test, the results were close. However, in the end, Angelwax's Revenge takes the win. The format of our revised test suited Auto Finesse's Citrus Power, which ends up in second place; and it's followed by former test winner Simoniz's Insect & Dirt Remover.
1 Angelwax Revenge
2 Auto Finesse Citrus Power
3 Simoniz Insect & Dirt Remover 
Reviews
Angelwax Revenge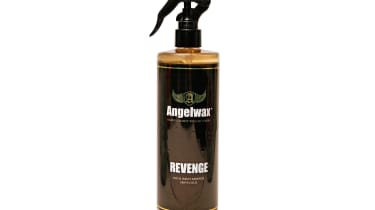 Price: around £8Size: 500mlRating: 5 stars
The Scottish producer takes another well deserved if narrow, victory in this test. As ever, the results were close overall, but Revenge had a decent margin in the tests and that was just enough to overcome its less-expensive rivals. 
After you've sprayed on the pleasantly perfumed cleaner and left it for up to four minutes, it's designed to be just hosed off. Even when we cut this time to prevent drying out, Revenge still made good progress on the bugs with limited wiping. 
Buy now from Amazon
Auto Finesse Citrus Power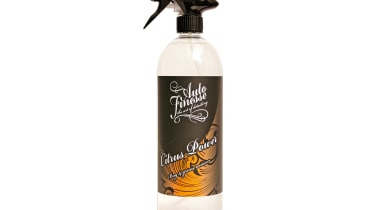 Price: around £10Size: 1,000mlRating: 4.5 stars
Our refined test suited Citrus Power, which has failed to star in previous tests, although it was by no means disgraced. The formula may also have been tweaked, but whatever the reason, it was at the top end of the cleaning results this time around. Like most here it needs to applied then left before you wipe and rinse it.
It's also versatile, because it aims to shift grease and traffic film while not affecting waxes or sealants. The big pack makes it easy on the wallet too.
Buy now from Halfords
Simoniz Insect & Dirt Remover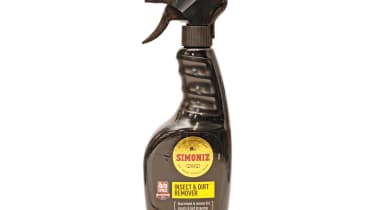 Price: around £5Size: 500mlRating: 4 stars
There have been two or three versions of Simoniz's bug shifter, including one called just that. But whatever the name, they've always been among the best in our tests.
And it was no exception this year, with the firm's Insect & Dirt Remover making decent progress on the long-neglected bugs. It couldn't quite match our top two, but combined with a keen price it secures another podium finish. It can also be used to remove grime between washes, making it ideal for being kept in the boot.
Buy now from Amazon
Gtechniq W8v2 Bug Remover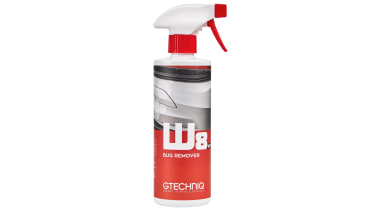 Price: £8.99  
Size: 500ml  
Rating: 4 stars 
When we tested this new product's predecessor in 2017, it fared well in the rinse-only elements, but couldn't match the best when wiping was introduced. It also was relatively expensive. 
The price is still towards the upper end of the range, but the difference between it and its leading rival here is the same. Our rinse-only tests suited W8v2, because it's designed to work with a pressure washer, with wiping only in extreme cases. 
It needs to dwell for three to five minutes, and goes on in a slightly frothy, thicker spray than Revenge, yet could be left for the required time despite the warm test day. It was a close match for our champion, and it was only over several tests that Revenge got the edge. It worked well even with our gentle rinsing, proving the worth of the new formula.
Buy now from Amazon
Autoglym Active Insect Remover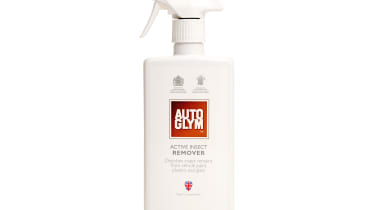 Price: around £9Size: 500mlRating: 4 stars
When the test results are close, price plays a bigger role in separating the various products. But this time Autoglym managed to overcome that disadvantage and secured our recommendation.
In the bug tests it all but matched our runner-up, the Auto Finesse Citrus Power, despite requiring only 30 seconds to work. The pleasant lemon-scented spray goes on in a loose foam, which clings well, unlike some rivals. It's certainly not the cheapest solution overall, but it works effectively.
Buy now from Halfords
Amazon Basics Bug & Dirt Remover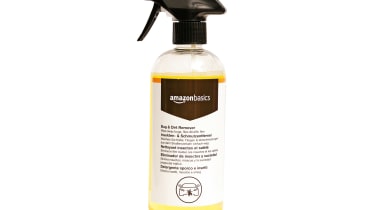 Price: around £7Size: 500mlRating: 3.5 stars
This is the first time that the online shopping giant's own-brand range has appeared in a car-care test, but like the others here it aims to tackle traffic film, along with bugs. There's no dwell time specified, but it does need agitating with a brush or sponge.
After that, you then need to wipe it off with a damp cloth, which means that it isn't the easiest product for keeping in the car. Cleaning was decent, if a step behind the best here. In such a cost-sensitive market, its price does it no favours. 
Buy now from Amazon
Turtle Wax Bug & Tar Remover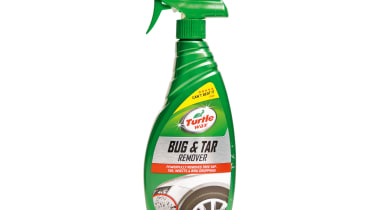 Price: around £5Size: 500mlRating: 3 stars
There was a time when bug-shifters could also be used on other marks like tree sap and bird droppings. Makers are now getting more specific about what their insect cleaners will tackle, but Turtle Wax is a welcome exception, saying that this cleaner is also good for tar, tree sap and droppings.
The only downside is that you'll need to replace any wax that had been applied. This spray's keen price – currently down from £6 at Halfords – is a help, but it could not overcome the small deficit to the top cleaners.
Buy now from Halfords
Meguiar's Heavy Duty Bug & Tar Remover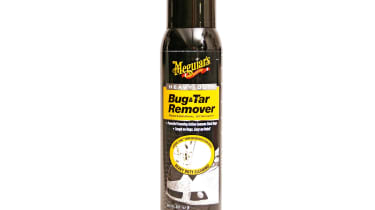 Price: around £10Size: 444mlRating: 3 stars
We found lots to like about this cleaner from US giant Meguiar's, which was the only aerosol on test. It goes on in a thick foam that clings well. It also lasted longer than many rivals, which dried before their dwell times were up even on a relatively cool test day.
Despite claiming that it had 'professional strength', its cleaning was on par with most rivals, while there's a price to pay for that thick foam. Even at this discounted Halfords price – down from £12.50 – it was the dearest on test by some margin.
Buy now from Amazon
Halfords Bug & Tar Remover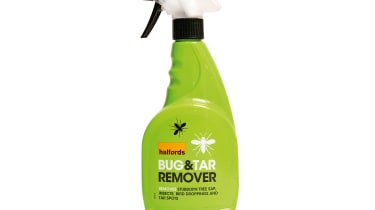 Price: around £4Size: 500mlRating: 3 stars
Makers adopt several approaches to shifting bugs, but most have focussed on the strong glass-cleaner style. However, Halfords is one of the few which is persisting with a spray that's more like a liquid polish or wax. The result is a white spray that needs to be carefully removed from surfaces, particularly grilles and trim.
It's a pain and there is no clear advantage when it comes to cleaning although, like the Turtle Wax product, it will tackle sap, tar and bird lime as well as insects.
Buy now from Halfords
Source: Read Full Article