Autonomous cars compete in 173mph self-driving oval race at CES 2022
Teams used Dallara autonomous race cars and went wheel to wheel at 173mph during this year's Consumer Electronics Show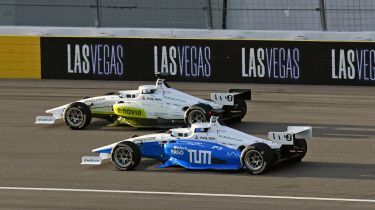 This year's Consumer Electronics Show hosted an autonomous race car competition at Las Vegas Motor Speedway, where self-driving race cars took to the track to battle at speeds of more than 170mph.
Five teams from around the world developed autonomous racing software to take control of their cars, with the winner – the PoliMOVE team from Milan – receiving a $150,000 prize.
Pure-electric and autonomous NIO ET7 saloon unveiled
Each team represented their respective university, and competed using the Dallara AV-21 – a single-seat race car with hardware installed for autonomous driving.
Around the banked turns of the Las Vegas Motor Speedway, the cars were cornering at almost 170mph, with PoliMOVE's car reaching an overall top speed of 173mph. The race was organised by American firm Energy Systems Network, a company that is aiming to speed up the development of self-driving tech for commercial use. Paul Mitchell, CEO of the company, said:
"We came to CES this week, the world's most influential technology innovation event, to showcase to the world how this competition is catapulting autonomous technologies forward. We're harnessing the power of prize competitions to attract the best and the brightest minds from around the globe to further the state-of-the art technology in safety and performance of automated vehicles and the teams did just that today with another historic competition."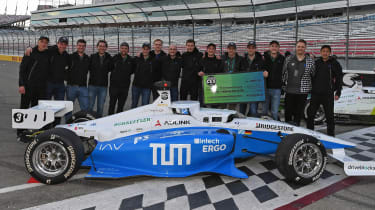 The event was sponsored by sensor company Luminar, which supplied LIDAR systems for the Dallara AV-21 to enable 360-degree long-range sensing for high-speed racing. The firm also provides sensor technology for mainstream car manufacturers.
During the final race of the competition, cars from PoliMOVE and German team TUM went wheel-to-wheel at close proximity, before the TUM car spun and speared off the road, although the autonomous programming kept the car out of the barriers.
The Autonomous Challenge saw a strong response from universities this year, with 41 teams from 11 countries signing up initially. The event is set to be held again in 2023.
Check out Toyota's autonomous drifting Supra here…
Source: Read Full Article