Audi SUVs: A Buying Guide to Help You Find the Right One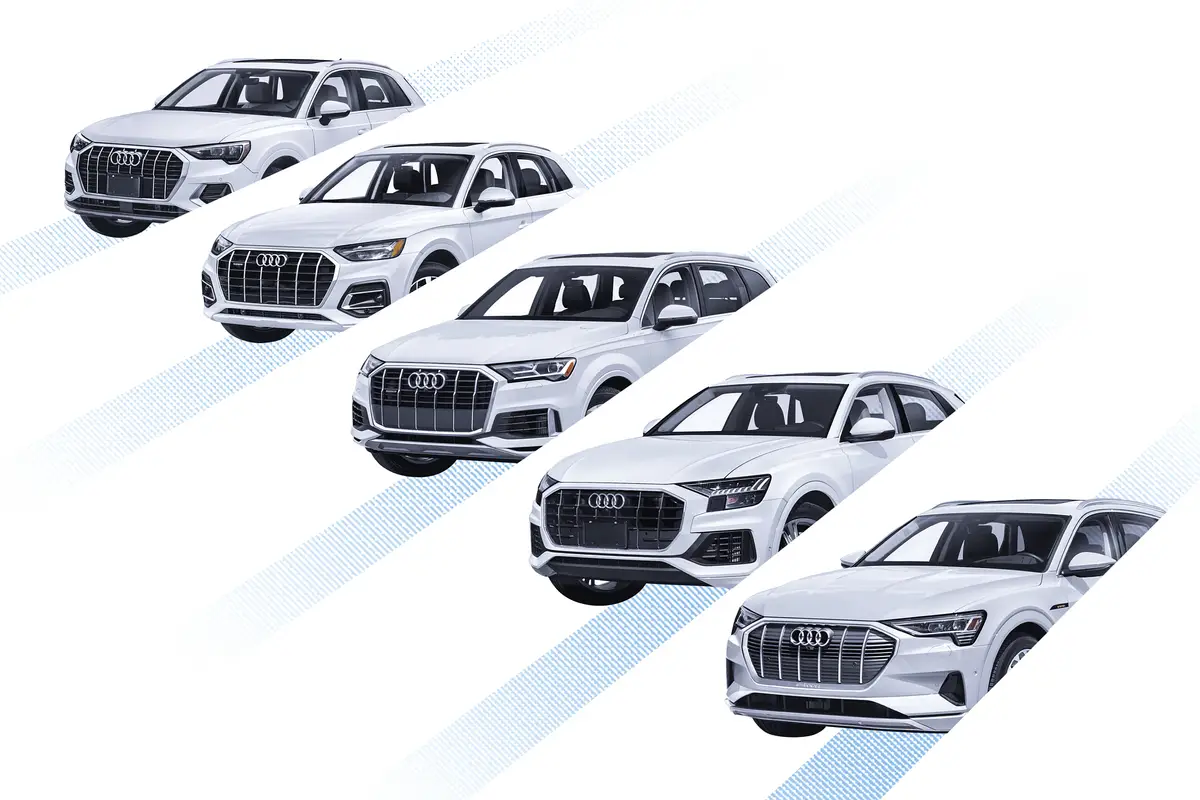 Like other luxury brands, Volkswagen-owned Audi is increasingly reliant for sales on its lineup of SUVs, from a small starter crossover to sporty and fast six-figure rides. They generated two-thirds of its sales in 2020. Regardless of price or size, Audi's SUVs share a strong family DNA, starting with a striking resemblance in their conservative exterior designs. They also have in common good-looking, premium interiors that set them apart not only from mainstream competition, but also from some premium rivals.
Related: Mercedes SUVs: There Are Many, So Which Is Right for You?
Other Audi markers include sophisticated tech, even on base models, and a relatively smaller footprint for their respective size classes, which appeals to many buyers. But you won't mistake, for example, the smallish third row in Audi's Q7 family hauler for the third row in the latest Mercedes-Benz GLS, much less the capacious wayback in a VW Atlas. And Audi SUVs feature a competent driving experience with good handling and Audi's respected Quattro all-wheel-drive system as standard. In general, Audi offers well-rounded premium SUVs that may not sport a lot of "gee-whiz" aspects but also don't disappoint in any significant way. 
Audi also has committed to a transition to electric SUVs, with its Q5-sized E-Tron compact SUV on sale now, and smaller and cheaper Q4 e-tron electric SUV coming later in 2021 as a 2022 model. It also offers a plug-in hybrid version of the Q5.
2021 Audi SUV Starting Prices (Least to Most Expensive; Includes Destination)
Q3: $35,095 to $40,395
Q5: $44,395 to $66,390
Q7: $56,640 to $92,890
Q8: $69,890 to $115,595
E-Tron: $66,995 to $83,395
Audi Q3
Price: $35,095 to $40,395
Number of seats: Five
Cargo room: 23.7 cubic feet behind the backseat
EPA-estimated combined mpg: 23-25
Towing capacity: Not rated for towing
Fits three car seats across: No
Length: 176.6 inches
Audi's entry-level Q3 got a redesign for 2019 that gave the subcompact SUV a higher level of quality and technology more in keeping with Audi's larger, more expensive SUVs. The Q3 also got a little bit bigger and offers good comfort for a subcompact in both rows of seats. 
The latest-generation Q3 moved into 2021 with minimal changes beyond a revision of trim levels and equipment. New is a less expensive (but less powerful) base Q3 with a 184-horsepower, turbocharged 2.0-liter four-cylinder and a higher EPA combined mileage rating of 25 mpg, up by 2 mpg. The former base model with its 228-hp 2.0-liter became the Q3 S Line, with a higher price and more standard equipment, including the S Line appearance package, lane departure warning, power front seats with lumbar support and steering-wheel-mounted shift paddles. Both have a lengthy list of standard features from a responsive eight-speed automatic and standard Quattro all-wheel drive to a panoramic moonroof, LED headlights, a power liftgate and an 8.8-inch touchscreen with Apple CarPlay and Android Auto smartphone connectivity. 
The Good
Smooth, responsive transmission
Stable and poised ride
Interior quality
Front- and rear-seat comfort
Standard all-wheel drive
Standard panoramic moonroof
The Bad
Mediocre fuel economy
Firm ride with 19-inch wheels
Nose-heavy feel in corners
What Else You Need to Know About the Audi Q3
Here Are 5 Great Affordable Luxury Cars You Can Buy Right Now
Audi Q3: Which Should You Buy, 2020 or 2021?
2019 Audi Q3 Is Bigger, Wiser and More Practical
Here's Everything We Know About the New Audi Q3
Keep It Simple, Stupid: How Well Does the 2019 Audi Q3 Single-Screen Setup Work?
2019 Audi A7, Q3 Do a Bang-Up Job in First-Time Crash Tests

Audi Q5

Price: $44,395 to $66,390

Number of seats: Five 

Cargo room: 25.1 cubic feet to 25.9 cubic feet

EPA-estimated combined mpg: 20-25 (gasoline); 27 mpg/19 miles of all-electric range (Q5 e PHEV)

Towing capacity: 2,000 pounds (PHEV) to 4,400 pounds

Fits three car seats across: No

Length: 184.3-184.6 inches

Audi's Q5, its entry in the highly competitive class of compact SUVs, was by far its 2020 bestseller and one that offers a buffet of choices. It's available with three powertrains, including a plug-in hybrid, as well as in a gas-only Sportback body style, one of those fastback SUV styles popular with European luxury brands; as with most such "four-door coupe" SUVs, the Sportback has sportier trim and is more expensive than its traditional SUV sibling. Each of these Q5 variants has three trim levels, and the gas-powered SUV and Sportback also come in performance SQ5 flavors.

The 2021 Q5 got a significant freshening of the current generation that dates to 2018. Exterior changes are modest — mainly a new grille, headlights and taillights more in line with the current Audi look. But it got a big tech update inside with a 10.1-inch touchscreen powered by Audi's latest MIB 3 multimedia system, which is faster, offers upgraded Wi-Fi, stores driver profiles, has an integrated toll transponder, offers over-the-air updates of vehicle features, and includes wireless Apple CarPlay, wired CarPlay and Android Auto and Amazon Alexa capability. The 2021 model also has more standard safety tech.

The base engine for the gas SUV and Sportback is a turbocharged 2.0-liter four-cylinder engine putting out 261 hp, up 13 hp from the 2020 model and mated to a seven-speed dual-clutch automatic. The Q5 e PHEV has a turbo 2.0-liter and an electric motor with a combined system output of 362 hp, plus a 2-mpg edge in the combined mileage rating over gasoline-only Q5s and 19 miles of all-electric range on a charge; it also uses the seven-speed dual-clutch automatic. The SQ5 and SQ5 Sportback have a 349-hp, turbocharged 3.0-liter V-6 engine and eight-speed automatic. All versions have standard Quattro all-wheel drive.

Among the more powerful and more expensive Q5s, the Q5 e plug-in is a good value compared with the SQ5 models. The trim levels are comparable in sticker prices to the SQ5s and comparable in horsepower (362 versus 349 hp) and 0-60-mph time (5.0 versus 4.7 seconds), plus the hybrids get better mileage on gas and only the plug-ins qualify for an EV tax credit of $6,712 from the federal government.

The Good

Excellent ride and handling balance
All-wheel drive standard
Good visibility
Comfortable, adjustable backseat
Sophisticated cabin

The Bad

Multimedia system can be confusing
Expensive, especially in SQ5 and PHEV forms
Premium fuel recommended

What Else You Need to Know About the Audi Q5

2021 Audi Q5 and SQ5 Sportbacks: Less Is More?
2021 Audi Q5 Doesn't Mess Much With a Good Thing
What's the Best Luxury Compact SUV for 2018?
2018 Audi Q5 Review: First Impressions
Audi Prices 2020 Q5 SUV and A8 Sedan Plug-In Hybrids
Research the 2021 Q5 e Plug-In Hybrid
Research the Audi SQ5

Audi Q7

Price: $56,640 to $92,890

Number of seats: Seven

Cargo room: 35.7 cubic feet behind the second row, 14.2 cubic feet behind the third row

EPA-estimated combined mpg: 17-21

Towing capacity: 4,400 pounds (Q7) to 7,700 pounds (SQ7)

Fits three car seats across: Yes

Length: 199.3-199.6 inches

Audi's Q7 family SUV — the only Audi SUV that seats more than five — was freshened for 2020 with minor exterior styling tweaks and a dual-touchscreen multimedia and control system in an impressive new dashboard (though not all of us were impressed by the touchscreen controls for the climate system). The 2021 Q7 and its sportier, more aggressive SQ7 sibling mostly carry over with some further tweaks and shuffling of standard and optional equipment and packages, including more standard safety and driver assistance tech on lower trim levels.

The Audi Q7 is capable and refined with impressive interior quality and sophisticated tech, and while it's Audi's contender for the family SUV buyer, it's not huge. That leaves the third row less useful for adults and near-adults; while it's nice to have in a pinch, the Q7's third row is best left to kids. The tidier size also means less cargo room than many three-row SUVs. But the first two rows are spacious and comfortable, and the second row (available only as a bench seat) notably could accommodate three child seats across in our testing. 

The base engine is a 248-hp, turbocharged 2.0-liter four-cylinder; optional is a 335-hp, turbo 3.0-liter V-6, both with an eight-speed automatic and standard Quattro all-wheel drive. We found these versions competent in handling despite some body roll, and we also noticed turbo lag with the V-6 upgrade. If you want more performance, you can opt for the SQ7 with its 500-hp, twin-turbo 4.0-liter V-8. The SQ7 also adds more aggressive looks, sport seats and standard and optional performance gear including an adaptive air suspension, torque-splitting rear differential and active body roll control.

The Good

Braking
Quiet cabin
Interior quality
Crisp touchscreen graphics
Power with the available V-8

The Bad

Acceleration lag with available V-6
Body roll in corners
Third-row space and access
Touchscreens collect smudges

What Else You Need to Know About the Audi Q7

Audi Q7: Which Should You Buy, 2020 or 2021?
2020 Audi Q7 Review: Quibbles With the Biggest Q
2020 Audi Q7: 4 Pros and 6 Cons
2020 Audi Q7: New Screens, New Smile 
2020 Audi SQ7: 500-HP SUV Fits Family, Hauls Ass
2020 Audi SQ7 and SQ8: 6 Things Performance SUV Shoppers Will Wanna Know
Research the SQ7

Audi Q8

Price: $69,890 to $115,595

Number of seats: Five

Cargo room: 30.5 cubic feet behind the backseat

EPA-estimated combined mpg: 15-20

Towing capacity: 7,700 pounds

Fits three car seats across: Not in our testing, but three might fit with different car seats

Length: 196.6-197.3 inches

The Q8, all-new for 2019, rolls on with minor changes and revised standard and optional equipment packaging. The Q8 is Audi's flagship SUV — at least in price — and has its own badge, but it's basically a more stylish, coupeified version of the Q7 on which it's based. The Q8 has a similar premium interior in materials and design and features sophisticated tech, including the dual-touchscreen multimedia and control system, but it's more comfortable thanks to fitting just five seats in about the same space — the Q8 is only about 3 inches shorter than the three-row Q7. That also makes it roomier than many rival "four-door coupe" SUVs. 

Befitting its top-of-the-line status, the Q8 bypasses the Q7 four-cylinder to power the base model with the Q7 upgrade, the turbocharged 3.0-liter V-6 rated at 335 hp teamed with an eight-speed automatic and standard Quattro all-wheel drive. (We've had the same issues with accelerator lag as we did with the Q7 with this setup.) The middleweight in the line is the SQ8 with, like the SQ7, a 500-hp, twin-turbocharged 4.0-liter V-8, as well as sportier trim and more performance gear. But from here, the performance heavyweight now is the RS Q8 with a 591-hp, twin-turbo 4.0-liter V-8, the most aggressive Q8 looks and upgraded chassis bits configured by Audi Sport. 

The Good

Smooth ride 
Quiet at highway speeds
Excellent visibility
Large backseat
Interior materials quality

The Bad

Acceleration lag with the V-6
Minimal in-cabin storage
Options add up quickly

What Else You Need to Know About the Audi Q8

Audi SQ8 Vs. Q8: Is the SQ8's Powertrain Better Than the Q8's?
2021 Audi RS Q8: The School Drop-Off Lane Just Got a Lot Cooler
2021 Audi SQ8 Vs. 2021 BMW X6 Vs. 2021 Porsche Cayenne Vs. 2021 Maserati Levante
Audi Shows Up Big in L.A. With E-Tron Sportback, RS Q8 and Much More
2020 Audi SQ7 and SQ8: 6 Things Performance SUV Shoppers Will Wanna Know
2019 Audi Q8 Review: A Big SUV With a Big Catch
Research the 2021 Audi SQ8
Research the 2021 Audi RS Q8

Audi E-Tron

Price: $66,995 to $83,395

Number of seats: Five

Cargo room: 27.2-28.5 cubic feet behind the backseat

EPA-estimated combined mpg: 77-78 mpg-equivalent, 218-222 miles of all-electric range

Towing capacity: 4,000 pounds

Fits three car seats across: No

Length: 193.0 inches

The E-Tron electric SUV is a Q5-sized compact SUV that rolled out in 2019 and added a more stylish E-Tron Sportback version with a coupelike profile for 2020. Neither departs markedly from the designs of other Audi SUVs, however, and they seem aimed to ease traditional Audi buyers into an electric future — they're not for you if you want an EV that shouts to the neighbors you've gone electric. But the upside is that if you like the Audi family look and premium interior design and tech, you'll feel at home in the E-Tron.

New for 2021 is a base Premium trim level that is a cheaper entry point for the electric SUV, at about $9,000 less than the now mid-tier Premium Plus. The E-Tron also currently qualifies for the maximum $7,500 federal tax credit. Technical improvements have improved the SUV's EPA-rated range on a full charge of the 95-kilowatt-hour battery to 222 miles (up 18 miles), while the Sportback is rated for 218 miles. Among premium electric SUVs, both lag Tesla's Model X and Model Y AWD models in range and energy efficiency (as measured by mpg-e ratings) but are competitive with Jaguar's I-Pace EV. The E-Tron also has capable onboard capacity for home charging and can accept up to a speedy 150 kilowatts at a commercial fast-charging station. A rear-biased AWD system is standard on the E-Trons, which have an electric motor on each axle. Total system output is 355 horsepower, and it can be boosted to 402 hp when needed (at a cost of range). The Audi electric SUVs are rated to tow up to 4,000 pounds with the towing package. 

The Good

Interior materials quality
Roomy 
Comfortable backseat
Acceleration off the line
Traditional SUV design for an EV
Capable charging electronics

The Bad

Numb brake pedal
Handling competent but not sporty
Relatively inefficient mpg-e and low-rated range

What Else You Need to Know About the Audi E-Tron

2020 Audi E-Tron Sportback: Sleek Looks Not Just for Show
Audi Shows Up Big in L.A. With E-Tron Sportback, RS Q8 and Much More
2019 Audi E-Tron: Everything You Need to Know
2019 Audi E-Tron First Drive: Electric SUV Is Golden Gloves to Tesla's MMA
Audi E-Tron: 7 Things to Know About the Latest Electric SUV

Audi SUVs Ranked by Fuel Economy, Cargo Room and Towing

Combined MPG (Base Trim, Highest to Lowest)

E-Tron: 78 (mpg-e)
Q5: 27
Q3: 25
Q7: 21
Q8: 20

Source: EPA

Cargo Room Behind Backseat (Base Trim, Biggest to Smallest)

Q7: 35.7 cubic feet behind second row, 14.2 cubic feet behind third row
Q8: 30.5 cubic feet
E-Tron: 28.5 cubic feet
Q5: 25.9 cubic feet
Q3: 23.7 cubic feet

Source: Audi

Maximum Towing Capacity (Highest to Lowest)

Q7: 7,700 pounds
Q8: 7,700 pounds
Q5: 4,400 pounds
E-Tron: 4,000 pounds
Q3: Not rated for towing

Source: Audi

Cars.com's Editorial department is your source for automotive news and reviews. In line with Cars.com's long-standing ethics policy, editors and reviewers don't accept gifts or free trips from automakers. The Editorial department is independent of Cars.com's advertising, sales and sponsored content departments.

Source: Read Full Article