Aston Martin Valkyrie Makes Its Dynamic Debut at British F1 Grand Prix
It's a car we've been hearing about — and indeed hearing — for months, but until now not one that's been used in anger.
That's all changed today, and if you're one of the 100,000 fans at Silverstone today for the qualifying session of the British Grand Prix you got a real treat. Aston Martin test driver Chris Goodwin took to the wheel of the Valkyrie to give it a public dynamic debut around the circuit before the F1 drivers went for their shootout.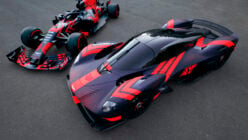 Although Goodwin wasn't necessarily taking the Valkyrie to its limits, it's an important step in the car's development. It's actually one of the first times anyone has ever driven the physical vehicle, rather than in a simulator.
This car, "Verification Prototype 1", will now start its physical testing regime over the next few months. Aston Martin has scheduled the first deliveries of the 1,160hp hypercars for the end of this year — and all 150 examples are already accounted for.
A special start to the weekend ?? The @astonmartin Valkyrie takes to the Silverstone track ? #BritishGP pic.twitter.com/iUL2CsF4q8
— Aston Martin Red Bull Racing (@redbullracing) July 13, 2019
Developed in conjunction with Red Bull Racing, hence the natty livery, the Valkyrie will also form the basis of two further, higher-performance models. There's the Valkyrie AMR Pro, which will be a track-only model, and the firm's Le Mans Hypercar category race car.
Valkyrie's design and technology will also guide development of some junior models. Firstly there's the AM-RB003 "Valhalla", which will provide a step just below the Valkyrie. Aston Martin's Vanquish successor is also penciled in as a mid-engined vehicle in the same mold.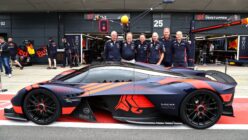 Aston Martin's president and CEO, Dr. Andy Palmer, commented:
"Today is a real milestone in not only Aston Martin's history but for our industry as a whole. Aston Martin Valkyrie continues to redefine what you and I recognize as a hypercar, possessing unrivaled levels of performance in a package that is technologically beyond anything else. While Chris's demonstration today was not delivered at full speed, there is no doubt in my mind that we will one day return to deliver its full potential around this magnificent circuit."
Source: Read Full Article