All-new Morgan 3-Wheeler undergoes prototype testing
Morgan is developing a replacement for its iconic 3-Wheeler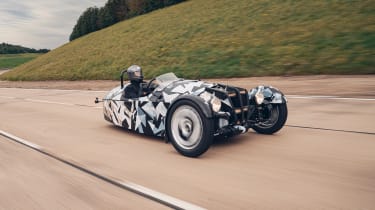 The lightweight, retro-styled Morgan 3-Wheeler is making a comeback with a new engine and 'new design language'. 
Production of the outgoing first-generation model ended last year with the limited-edition P101, although Morgan was quick to confirm a replacement was in the works. These new images are our first of the new car in its developmental stage and show that the 3-Wheeler will remain one of the most distinctive cars on sale. 
New Morgan Plus Four CX-T goes off road as Ariel Nomad rival
What won't remain is the old car's motorcycle-derived 82bhp 2.0-litre, twin-cylinder petrol engine – partly due to it becoming non-compliant with tightening emissions regulations. The new car will receive a 1.5-litre three-cylinder, naturally-aspirated petrol engine from Ford. 
While engine power is yet to be revealed, Morgan says the new car benefits from 'engineering enhancements' so expect it to beat the 0-62mph time of six seconds of the old car. Given the layout, it's likely the new 3-Wheeler will stay rear-wheel drive. 
The prototype features some key design details shared with the old car, such as front mud guards for the skinny tyres and round headlights. Although, the front end will change significantly with the replacement of the exposed V-twin engine for an inline three-cylinder. The side-exit exhausts look to have been omitted as well. 
The 3-Wheeler has been one of the most popular Morgans on sale in the past decade with 2,500 examples sold since its launch in 2011. 
Check out our review of the new Morgan Plus Four here…
Source: Read Full Article