2024 GMC Hummer EV SUV Revealed, Goes on Sale in 2023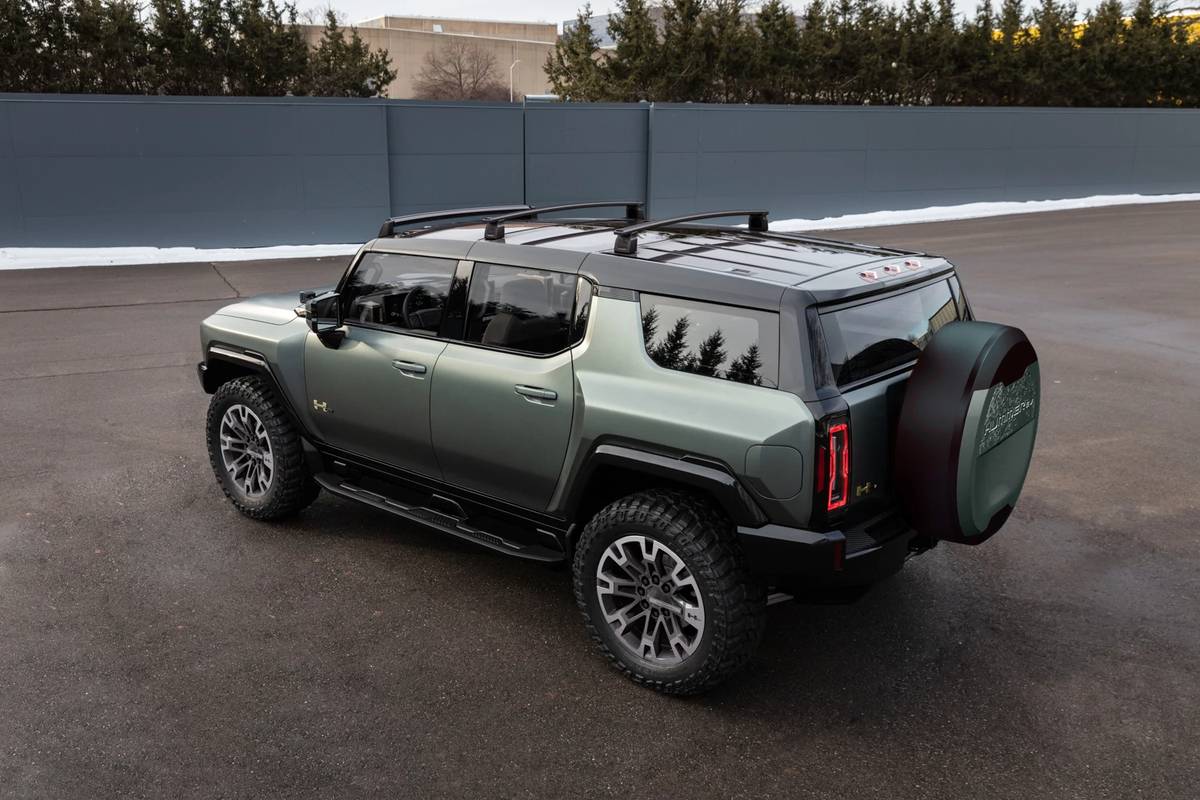 Competes with: Rivian R1S, Tesla Model X
Looks like: The old Hummer H2 updated for this decade
Drivetrains: 16- or 20-module lithium-ion battery pack; two- or three-motor electric all-wheel drive; up to 830 horsepower and 11,500 pounds-feet of torque
Hits dealers: Early 2023
Last year, GM unveiled its "supertruck," the new GMC Hummer EV Pickup, a reimagining of the Hummer brand into an expensive, exclusive, all-electric sub-brand for GMC. The stats on the thing were monstrous (including the price), and GMC teased that an SUV version would be forthcoming — and here it is: This is the upcoming 2023 GMC Hummer EV SUV, which features all of the crazy off-road prowess, next-generation battery packs, knockout styling and sky-high price tags of its open-bed pickup Hummer brother.
Related:  3 Things to Know About the 2022 GMC Hummer EV Pickup Truck
The first version to go on sale, the Edition 1 launch model, is also already sold out, as preorders opened over the weekend. Sorry. But the SUV won't even arrive until 2023, according to GMC, leaving plenty of time for people to change their minds as other vehicles enter the market. Given the stats on the new Hummer EV SUV, however, it might be hard to match what it can do.
Exterior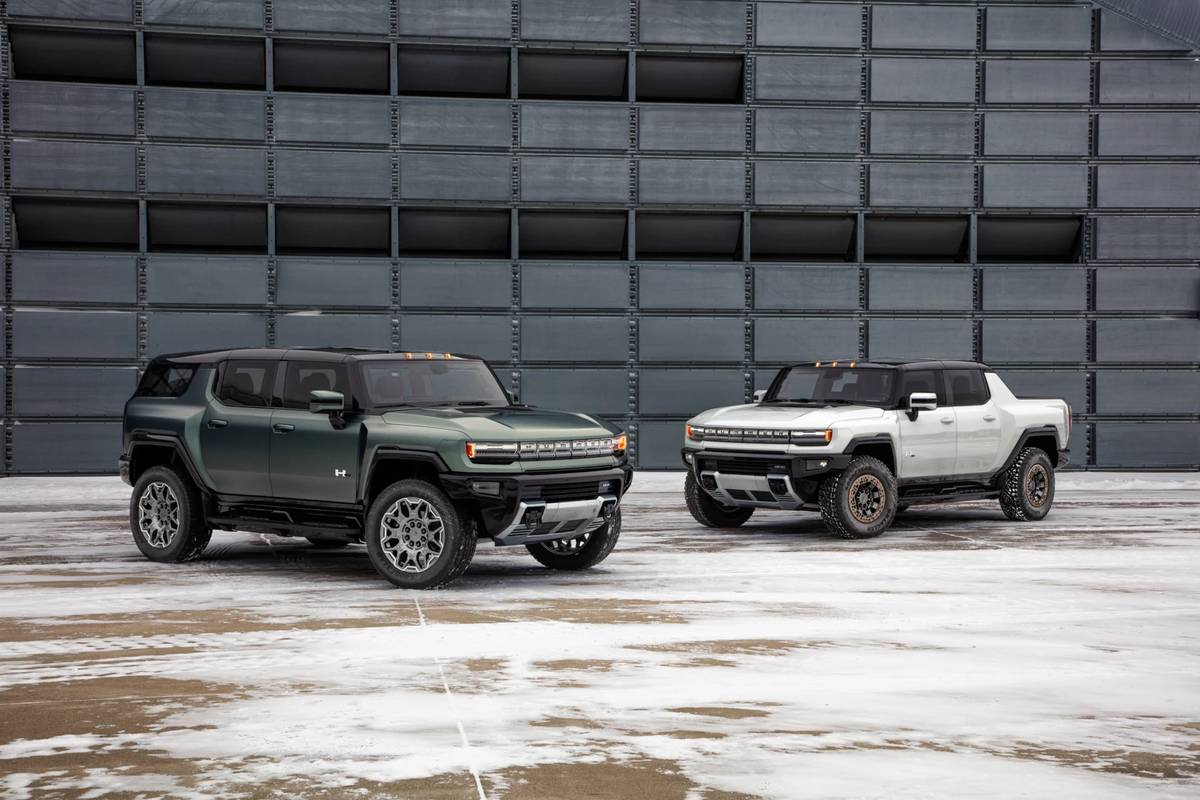 The look of the Hummer EV SUV should be familiar, which straddles the line between taking cues from the Hummer EV Pickup and the old Hummer H2 and H3 SUVs from when Hummer was its own brand more than a decade ago. One thing to note: the SUV is considerably shorter than the pickup, with nearly 9 inches cut out of its wheelbase. GMC says this improves its off-road prowess by dramatically changing the breakover and departure angles. It also shortens the turning circle, which is just 35.4 feet thanks to optional four-wheel steering, shorter than that of a Ford Mustang Mach-E's 38.1 feet. While you don't get the useful cargo bed of the pickup, you do get a secure and enclosed cargo area instead; when the seats are down, it can accommodate 81.8 cubic feet of cargo behind the first row. That's bigger than a GMC Yukon's 72.6 cubic feet but is likely helped by the lack of third-row seating. Curiously, the Hummer EV SUV is only a five-occupant SUV — no third row is mentioned, contrasting with rivals like the upcoming Rivian R1S.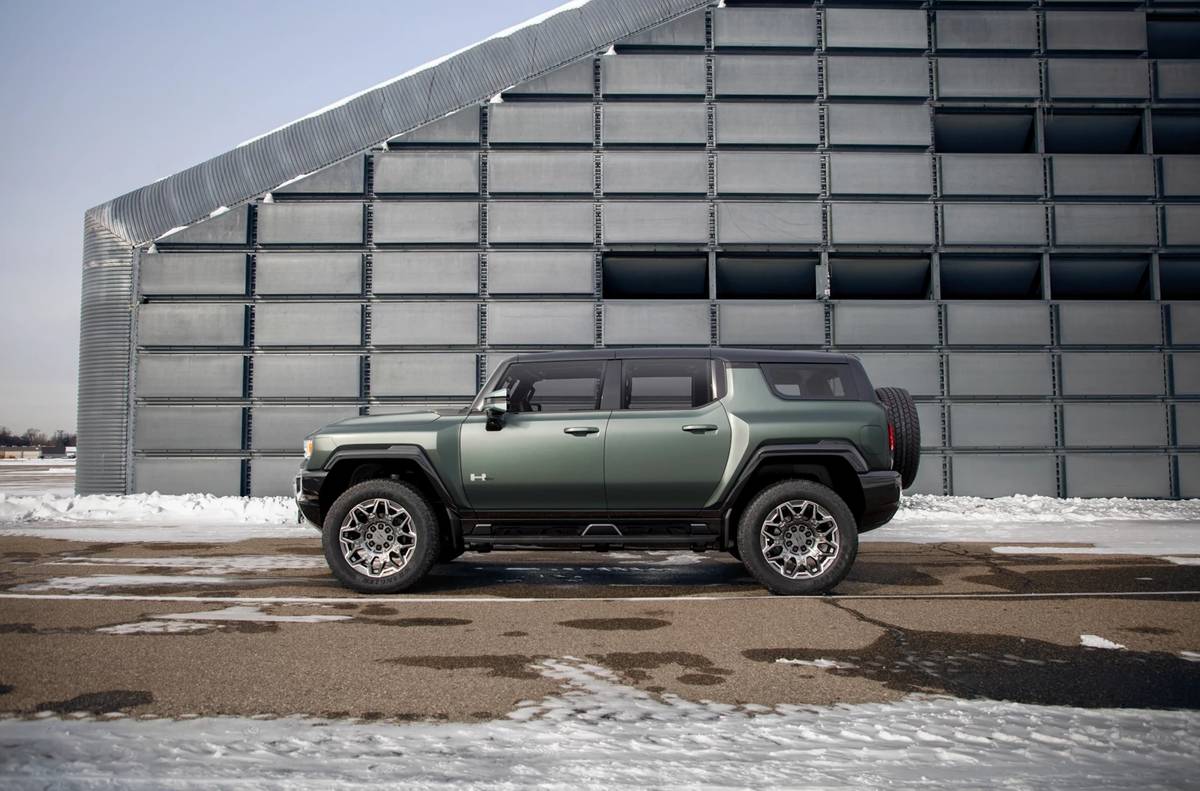 The Hummer EV SUV will initially only be available in the Edition 1 trim, which includes 22-inch wheels, assist steps and floor liners; an Extreme Off-Road Package will be available as the Edition 1's only option. The Extreme Off-Road Package swaps in 18-inch wheels shod with 35-inch mud/terrain tires, underbody armor plating, rock sliders, an electronic front differential locker and "virtual" rear lockers, heavy-duty ball-spline half-shafts, underbody cameras and more. A new Moonshot Green Matte paint will also adorn the Edition 1 trim; seven other colors will be available later.
Under the Hood: Specs, Range and 0-60 MPH
Powering the Hummer EV SUV will be a choice of two powertrains, but some of the specifics are still tentative because the truck is two years away from launch, meaning it's very early in the truck's product development cycle. The Edition 1 will be powered by a three-motor system and a 20-module double-stacked battery, providing either 300-plus miles of range or 280-plus miles of estimated range if you opt for the (likely heavier) Extreme Off-Road Package. The standard powertrain for lesser trims — EV2, EV2X and EV3X — will be a 16-module two-motor system on the EV2, enabling 250-plus miles of range, that's upgradeable to a 20-module, two-motor extended-range system that will let it go 300-plus miles on the EV2X. The EV3X adds an additional motor for more power output. The Extreme Off-Road Package will be available on all but the EV2 trim.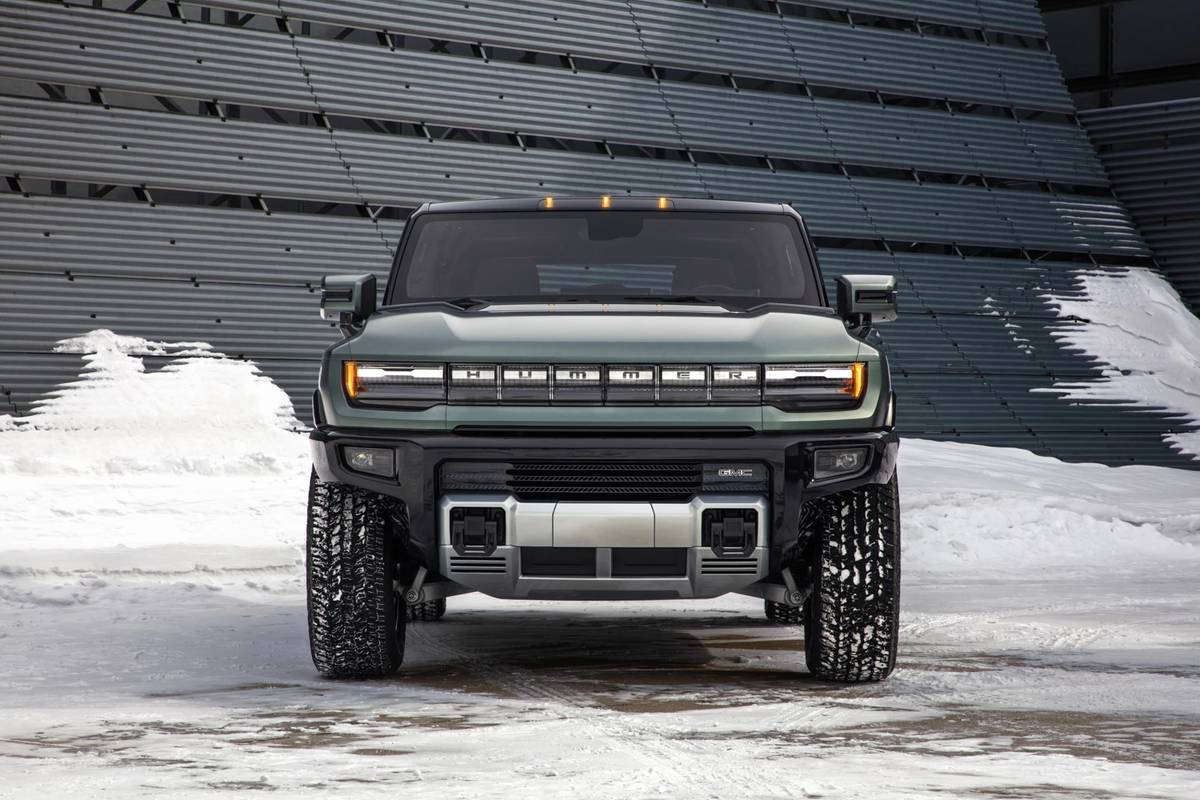 As for what that power output is, it's a little tricky to explain. GMC lists the power as "up to" 625 horsepower and 7,500 pounds-feet of torque for the two-motor system, or "up to" 830 hp and 11,500 pounds-feet of torque for the three-motor system. While that horsepower number might be close, the torque number is misleading. Previously, GM admitted it will likely still be somewhere between 1,000 and 1,100 pounds-feet for the Edition 1 Pickup, and that's what we'd expect to see here, too. Regardless of what the final numbers turn out to be, GMC estimates that the three-motor Edition 1 SUV will be able to go from 0-60 mph in just 3.5 seconds. 
Recharging will make use of GM's next-generation Ultium battery architecture, with the standard truck's 16-module battery pack able to DC fast-charge at 400 volts, while the upgraded 20-module packs will be able to handle 800 volts at 300 kilowatts. Right now, there aren't many public charging stations in the U.S. capable of such high voltages and rapid flow, but again: The truck isn't due to appear for at least two years, so there's time for more infrastructure to be built.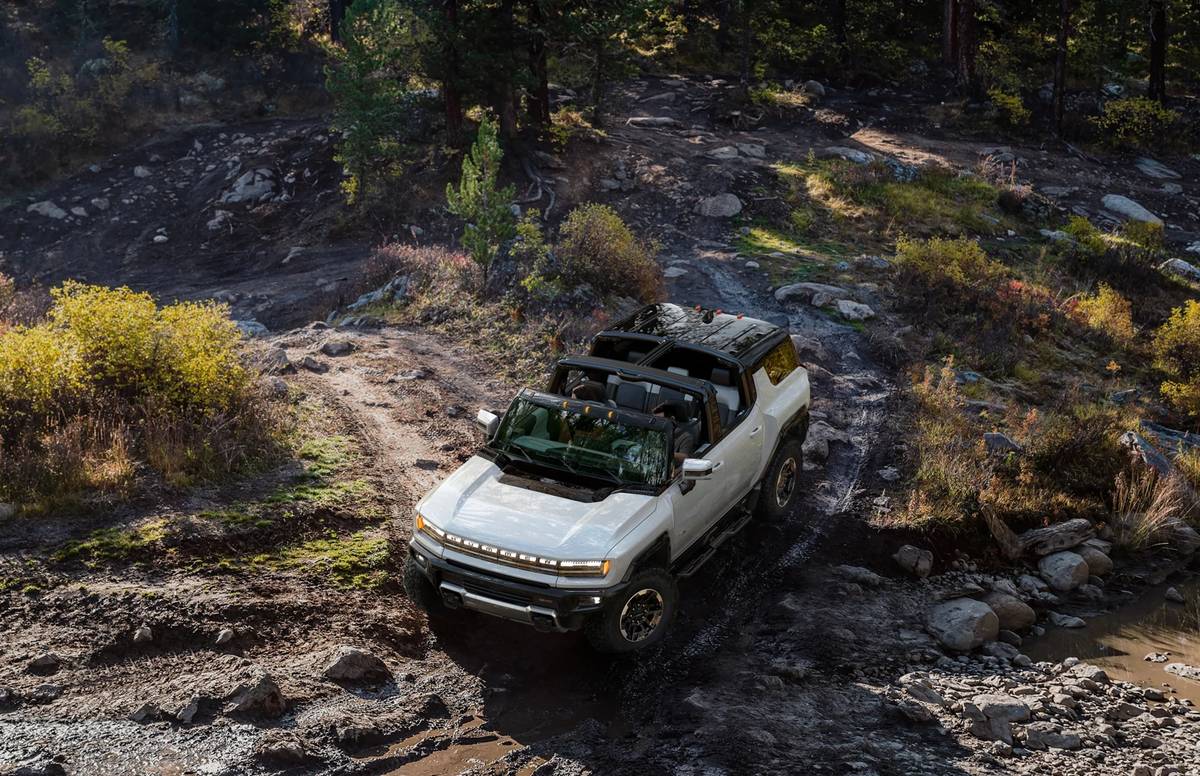 It will also feature all of the nifty technology that the pickup comes with as well, like CrabWalk mode that lets the four wheels move the vehicle diagonally by turning the rear wheels up to 10 degrees. Extract Mode also will be available, which raises the vehicle ride height to 16 inches to help get it unstuck from various off-road obstacles. For going deep into the wilderness, a satellite-connected trail-mapping system will be available, and the available Power Station generator will allow you to power a campsite with 19.2 kW of AC charging, delivering 120-volt, 25-amp, 3-kW juice for all your camping needs — or you can charge someone else's EV by switching it to 240 volts, 25 amps and 6 kW of charging power. What that'll do for your ability to get back home? Well, that's your problem — but once you get back to a mapped highway, GM's latest Super Cruise semi-autonomous hands-free cruise control system will also be included on all Hummer EV models to do some of the driving for you.
More From Cars.com:
Electric Hummer Performance Specs Are Out … and They're Bonkers
7 Things We Want to See in an Electric Hummer
GMC Slows Electric Hummer Charge as Lincoln Pulls Plug on Rivian-Built SUV
What's New With GMC for 2020?
2021 GMC Yukon, Yukon XL: Growing in the Right Ways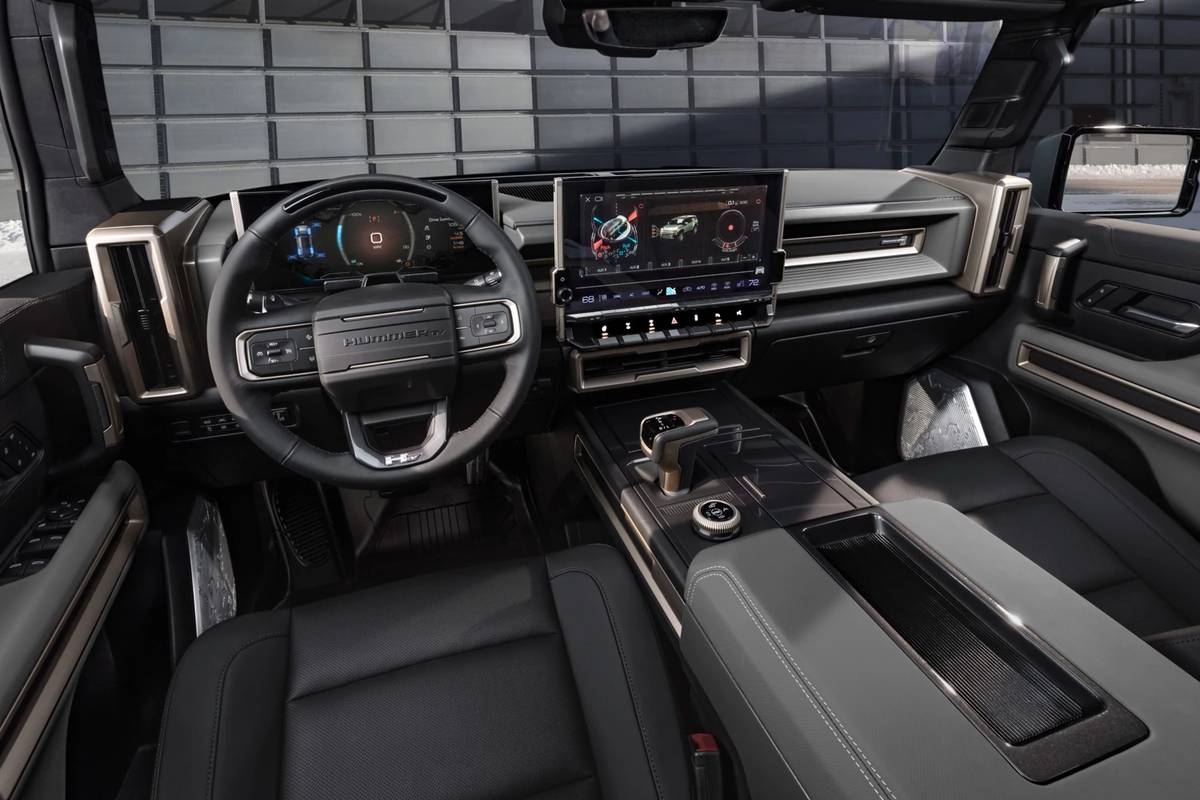 Interior
Inside the Hummer EV SUV, GMC promises an "immersive" experience, but one that also lets the outside in. The Infinity Roof with removable Sky Panels and I-Bar will be standard on all models, allowing for most of the top to come off. It will also feature a new color for the interior, Lunar Shadow, adding a new hue to the Lunar Horizon theme shown on the pickup. GMC has partnered with a special-effects company called Perception to bring a cinematic experience to the interior, with custom settings available for the Bose audio system, haptic driver's seat feedback and custom screen displays whenever the available Watts to Freedom mode is activated. Steering, suspension, vehicle sound and acceleration will all also be customizable through the My Mode functions.
The central display is a 13.4-inch multimedia screen, augmented by the 12.3-inch driver's gauge screen. Up to 14 camera views can be had for the HD Surround Vision system, and if you opt for the Extreme Off-Road Package, that increases to 17 views using the UltraVision underbody cameras. A digital key function can be used to allow a phone-as-key feature, enabling a number of passive features like approach lighting, entry unlock and vehicle start.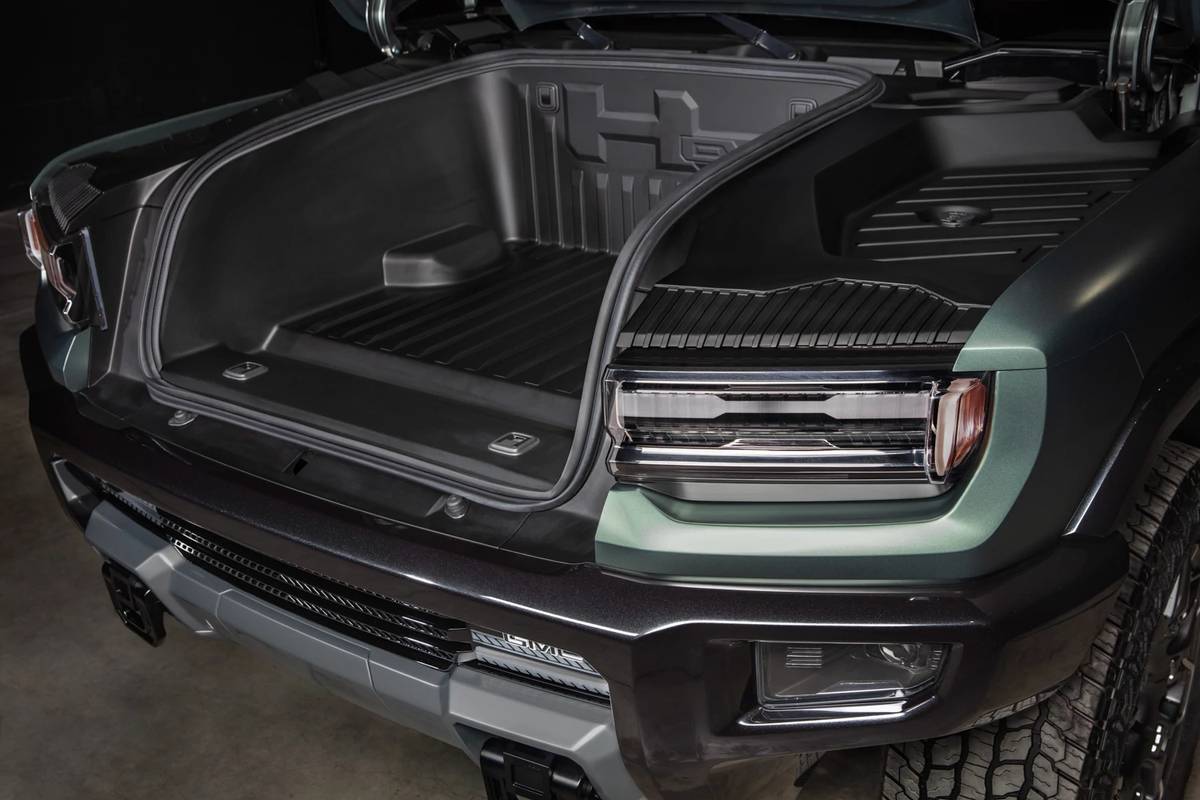 Pricing and Release Date 
Don't get too excited just yet about running down to your GMC dealer to acquire this latest electric wunderwagen. The first model, an Edition 1 trim, isn't expected to be delivered until early 2023 as a 2024 model, and it ain't cheap: $105,595 (all prices include destination). If you opt for the Extreme Off-Road Package, pricing jumps to $110,595. Spring 2023 should see the arrival of the EV2X ($89,995) and EV3X ($99,995) models, while the least expensive version (the EV2, at $79,995) won't be arriving until the spring of 2024, according to GMC's timeline. 
Related Video: 2021 GMC Yukon and Yukon XL: Review
Cars.com's Editorial department is your source for automotive news and reviews. In line with Cars.com's long-standing ethics policy, editors and reviewers don't accept gifts or free trips from automakers. The Editorial department is independent of Cars.com's advertising, sales and sponsored content departments.
Source: Read Full Article