'2023 will be the year when Dacia makes a splash in the UK'
Mike Rutherford takes a look at car sales in the UK, and thinks 2023 could be a big year for Dacia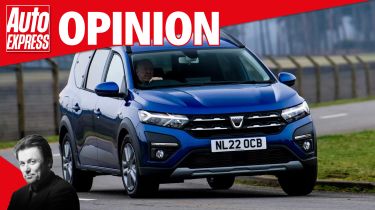 You'll have seen elsewhere the individual brands that put in mega, mediocre or miserable performances on their respective UK showroom floors last year. But it's not just about the solo artists. The antics of the automotive supergroups are important, too. Between January and December 2022, did the largest, noisiest and richest sell the most cars? Short answer: sometimes, but not always.
The truly international Volkswagen Group – Audi, Bentley, Cupra, Porsche, SEAT, Skoda and VW – convincingly claimed the number-one spot. A collective sales figure of almost 350,000 was deeply impressive. That said, with almost a quarter of a million Audi and VW-badged cars being purchased in Britain in a year, it could be argued that they're becoming a tad common. And with registrations up by more than a third, Porsche needs to be careful that it doesn't move out of the exclusive league into less aspirational territory.
Best-selling cars 2022: the UK's top 10 most popular models
Runner-up in 2022 was the giant Stellantis family, which has Abarth, Alfa Romeo, Citroen, DS, Fiat, Jeep, Maserati, Vauxhall and the big, influential daddy that is Peugeot on board. UK sales for this massive clan were 194,000 – with the added twist that Vauxhall had more success in attracting customers than its Italian, French and US sibling marques.  
In terms of bloodline, the Hyundai-Kia-Genesis trio is the purest of the major performers in the UK because all its members hail from Seoul, South Korea. Although Hyundai is the head of the family, it's not doing as well as Kia over here. As for Genesis, it's miles behind, but it's very much the new baby on the block. Combined, this trio enjoyed sales of 182,000 last year.
Narrowly missing out on a podium was BMW-MINI with collective sales of 155,000 – not bad for a 'little' German-Brit duo. In fifth, the Renault-Nissan-Mitsubishi Alliance remains an intriguing outfit. It's sad that Mitsubishi is now toast in the UK, but Alpine is doing well (sales up 43 per cent) and Dacia is even better (up 55 per cent). All this translates into sales nudging 137,000 for the Alliance.
Ford knows a thing or two about putting together and heading up a big band, as it proved when it formed the Premier Automotive Group. But these days the Blue Oval is a solo performer, buying into the 'smaller and leaner is better' ethos – and shifting a respectable 127,000 cars in the process. Next were the duos of Toyota-Lexus (on 113,000), Mercedes-Smart (82,000) and Jaguar Land Rover (55,000), with standalone disruptive upstart Tesla sneaking in to round off my top 10, just a few hundred sales behind JLR.
Don't be surprised if the Hyundai trio overtakes Stellantis next year. Also, expect Polestar-Volvo, Tesla (up 57 per cent) and MG (up 67 per cent) to take a pop at JLR. But 2023 will, I reckon, be the year when value-focused Dacia arrives proper in Blighty. As will dark horse Genesis, as it establishes its position as a premium brand, before moving up a gear to become a designer and maker of genuine luxury cars. The marque will be to Hyundai-Kia what Lexus is to Toyota. Only better. It's just a matter of time.
Click here for our list of the new cars to look out for in 2023…
Source: Read Full Article