2023 Volkswagen Aero B: new electric Passat equivalent spied
Volkswagen will soon make its ID.Vizzion concept a reality, which could become the longest-range MEB model in the firm's electric line-up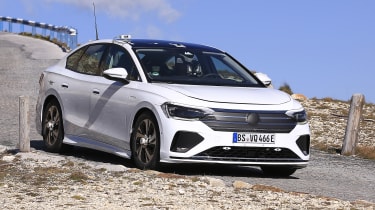 Our spy photographers have snapped the new Volkswagen Aero B on the road tackling its development programme. The electric large hatchback will make its debut in 2023, rivalling the Tesla Model 3 and acting as an electric alternative to the Passat.
The Aero B is the production version of the ID.Vizzion concept that was unveiled at the 2018 Geneva Motor Show – and, at the show, Volkswagen bosses said the finished car would be capable of driving up to 600km (or 327 miles) on a single charge.
High-performance Volkswagen ID. Life GTX variant in the works
If Volkswagen's current battery technology is anything to go by, this range figure should be easily achievable, especially when considering the Aero B's more aerodynamic shape. The ID.4 Life, when fitted with the brand's 77kWh battery and rear-mounted 201bhp electric motor, can cover up to 323 miles between charging stops.
The Aero B will likely use the same battery, electric motors and MEB platform as the rest of Volkswagen's ID. models, as suggested by the proportions of this prototype. 
The nose is relatively short and low; the panelling around the C-pillar is broad and tall, and the driver sits quite far forward, as the cabin and bodywork have been manipulated to make space for the electric motor on the rear axle.
We can also expect a four-wheel drive (potentially GTX-branded) version of the Aero B, with an electric motor on each axle and a combined output of 295bhp and 310Nm of torque. The same powertrain is already on sale in the hot ID.4 GTX SUV.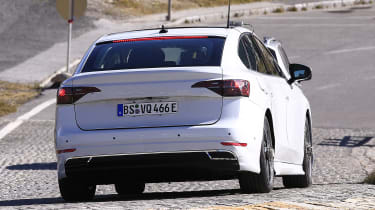 Eventually, Volkswagen will launch an estate version of the Aero B, too, as previewed by the ID. Space Vizzion concept from the 2019 LA Motor Show. The concept was also fitted with a dual-motor electric powertrain, which produces a more potent 335bhp. 
It remains to be seen whether this powertrain will make it into production, though. The ID.X concept (which spawned the ID.4 GTX), had its output trimmed back to 295bhp by the time it reached production, so it's likely that Volkswagen will do the same with the Space Vizzion.
Inside, we expect the Aero B will share the same compact digital dashboard and 10-inch infotainment system as the rest of Volkswagen's MEB models. It also looks like there'll be plenty of space in the rear, with the high angle of these spy shots giving a clear look at the car's rear bench seat and footwell.
Now click here to read about the upcoming Volkswagen ID.3 GTX electric hot hatch…
Source: Read Full Article