2022 Infiniti QX55: 5 Things We Like (and 4 Things Not So Much)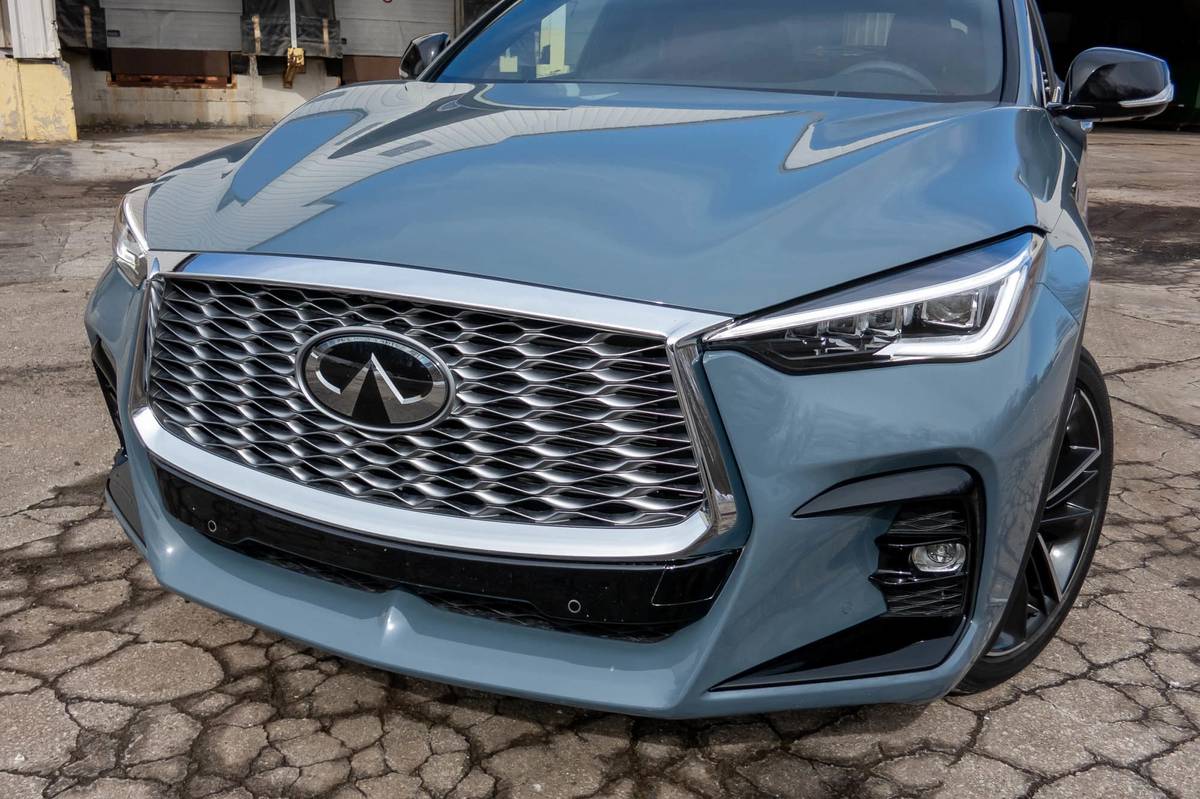 In an increasingly SUV-dominated market where automakers are shoehorning new models into every last tiny, odd-shaped hole in their lineup, the traditional terminology has been compromised. (What the heck does "crossover coupe" mean, anyway?) Up until now, compromise has been a foregone conclusion in merging the practical versatility of an SUV with the sleek styling of a two-door sports car — but Infiniti may have cracked the compromise code with its all-new-for-2022 QX55.
Related: 2022 Infiniti QX55 Review: Satisfyingly Premium, But Not as Sporty as It Looks
Based on the conventional QX50 SUV, the QX55 manages to retain the upscale feel, cabin space, cargo room and other SUV attributes, while smoothing out its profile for maximum low-slung sexiness. In that regard, it succeeds where primary competitors like the BMW X4 and Mercedes-Benz GLC300 fall short. Still, despite an enticing value proposition versus the Bimmer and the Benz, there remain trade-offs to be made among the occupants of this little nook of the SUV landscape.
For the full context, follow the link above to Cars.com reviewer Aaron Bragman's comprehensive critique. But for a rapid-fire roundup of the pros and cons, keep reading.
Here are five things we like, and four things we don't, about the 2022 Infiniti QX55:
Things We Like
1. It Gets the Roofline Right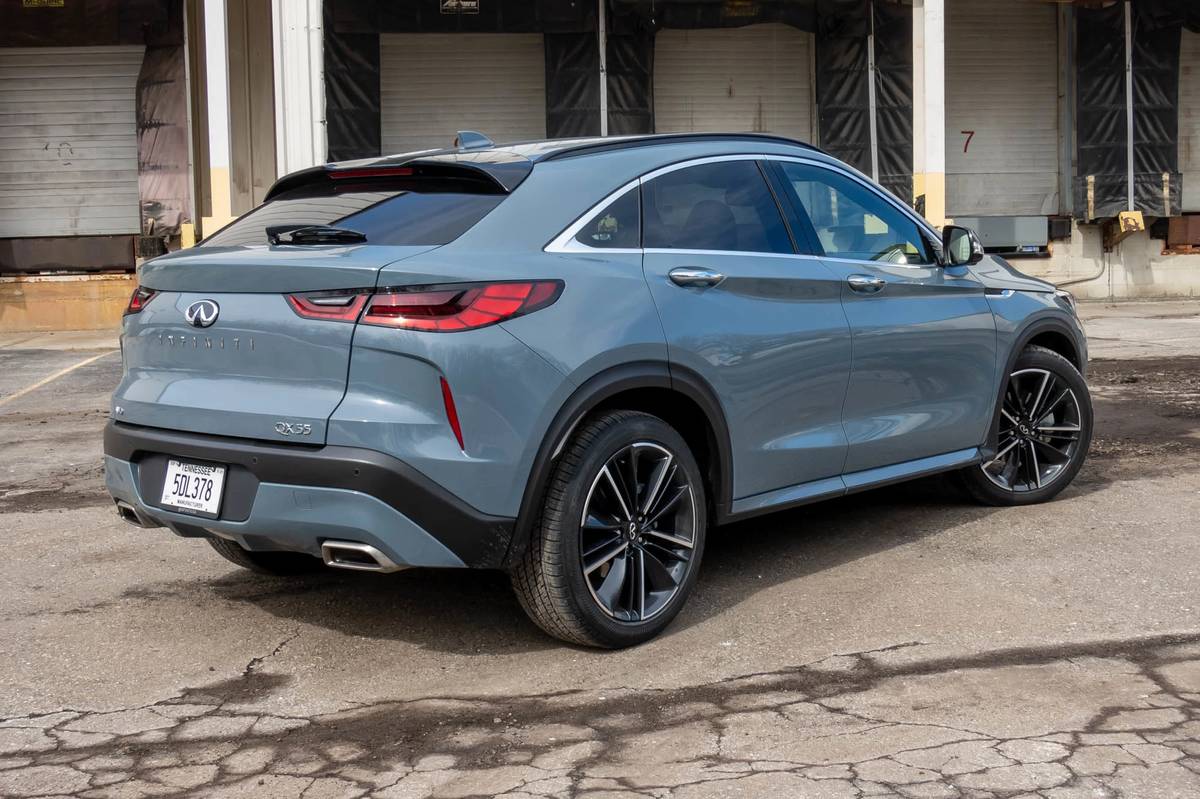 When SUVs get the sporty coupe treatment, the windswept roofline often blows the proportions out of whack. The QX55 not only avoids this issue, but actually manages to improve upon the look of the QX50, with sculpted, swoopy styling that suits it nicely.
2. Coupe'd, Not Cooped
Another danger of "coupifying" a crossover is that a sleeker shape often cuts into headroom. Not so in the case of the QX55, which skillfully avoids the coupe cramp of the X4.
3. The Rearview Is a Clear View
Another clear advantage the QX55 holds over many shaved-down SUVs is hindsight. Bragman characterizes rear visibility as "near-normal," which sounds like faint praise but is a hearty compliment when one considers the constrained sightlines of key luxury rivals in particular.
4. You Can Take It With You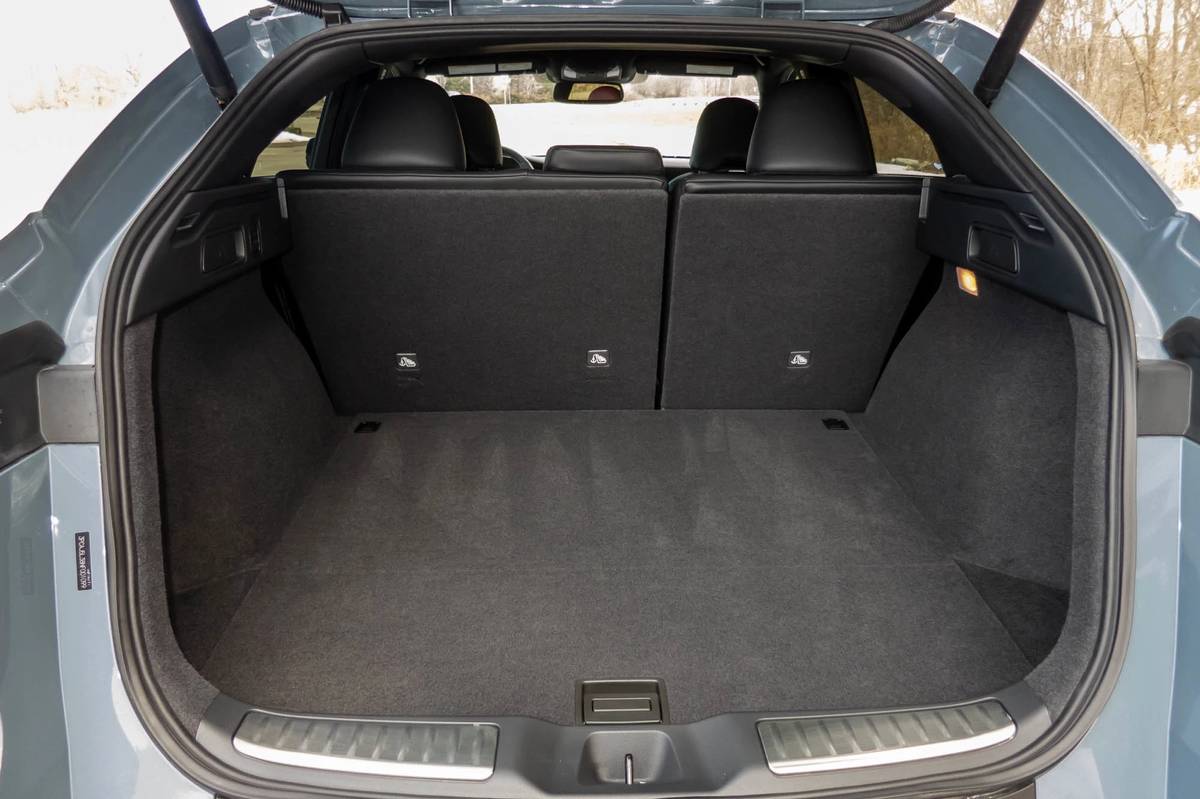 The QX55's 26.9 cubic feet of cargo space expands to 54.1 cubic feet with the rear seats moved forward — surprisingly accommodating measurements in this class. Here, again, BMW and Mercedes are cozy by comparison (depending, of course, on how implicitly you trust manufacturer's sometimes questionable cargo specs).
5. The Price Is Right
The QX55 starts at less than $48,000 — roughly five grand less than similarly equipped X4 and GLC300 (price estimates factor in a destination charge). Depending on which of the QX55's advantages you value over its shortcomings versus competitors, that could be a few thousand bucks well saved.
More From Cars.com:
Not a Shocker: 2022 Infiniti QX55 Costs More Than Comparable 2021 QX50
2022 Infiniti QX55: Throwback to the Future With FX-Inspired Looks
2020 Mercedes-Benz GLC300, AMG GLC63: 7 Things We Like (and 5 No, t So Much)
2019 BMW X4: 8 Things We Like and 2 Things We Don't
Things We Don't
1. Why Two When One'll Do?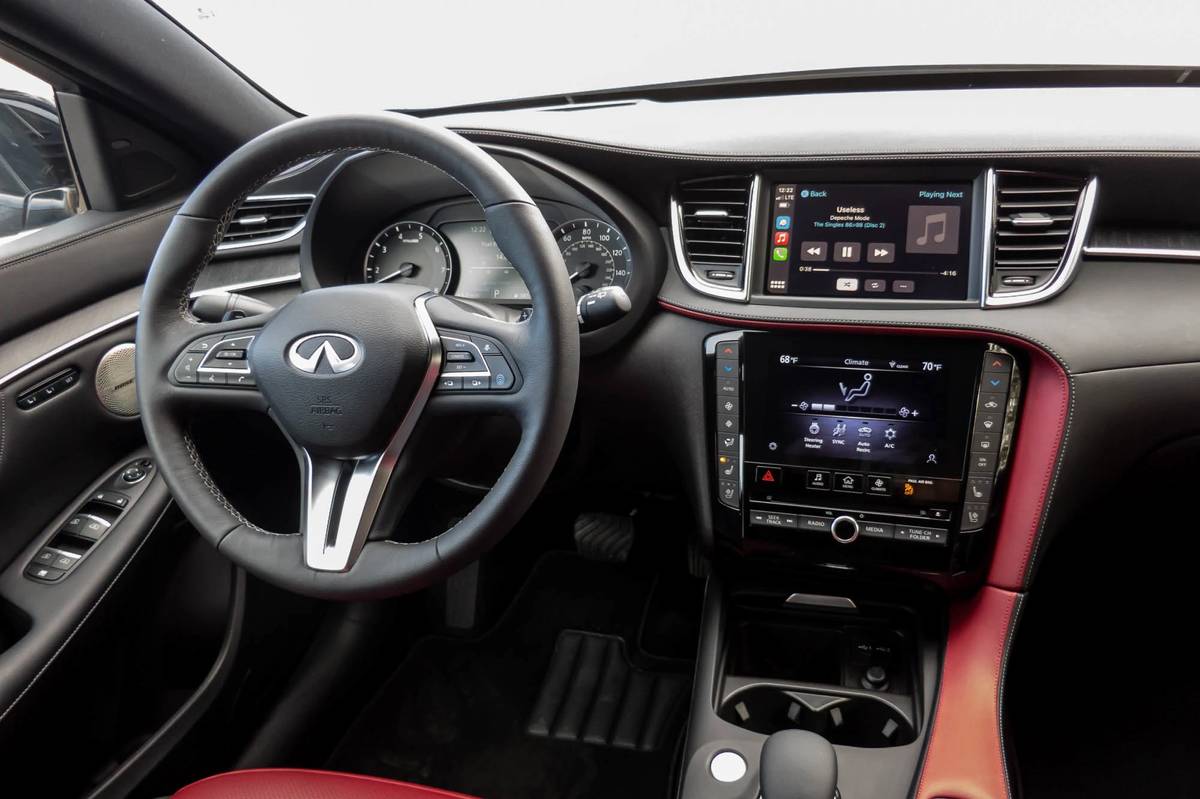 The two-screen multimedia setup divides functions like navigation, stereo and climate controls between them … for no readily apparent reason. The result is two screens that are harder to reach, harder to read and, ultimately, harder to use than they might be if combined into a larger single screen.
2. Low Ceiling, High Seating
The seating position hasn't been lowered commensurately with the roofline, and although headroom remains comfortable, the effect is a slightly awkward "driving-on-a-barstool feeling," as Bragman describes it in his review.
3. Inferior Interior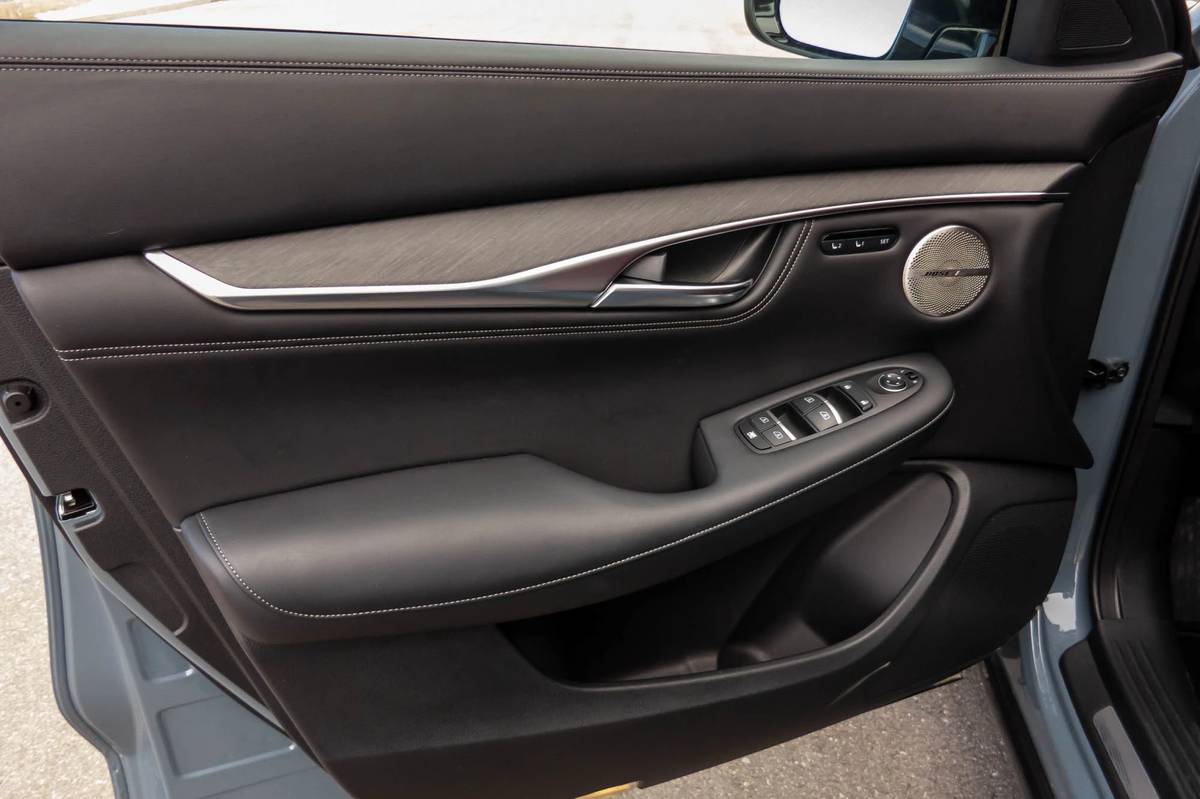 The QX55 boasts plush materials quality and a legitimately premium overall feel, and therein lies the problem. "Premium" is trumped by "luxury," and the latter is a card the Germans know how to play — seeing Infiniti's "excellent" and raising it a "special."
4. Taci-turn
Overall, the QX55's dearth of sporty performance relative to its appearance is perfectly fine, preferable even, where its soft, well-controlled ride is concerned. However, when it comes to steering feel, at least a little feedback would be nice. Bragman likens the numbness to playing a video game.
Related Video: 2019 Infiniti QX50: First Drive
Cars.com's Editorial department is your source for automotive news and reviews. In line with Cars.com's long-standing ethics policy, editors and reviewers don't accept gifts or free trips from automakers. The Editorial department is independent of Cars.com's advertising, sales and sponsored content departments.
Source: Read Full Article