2021 Hyundai Santa Fe Calligraphy Review: The Rich Get Richer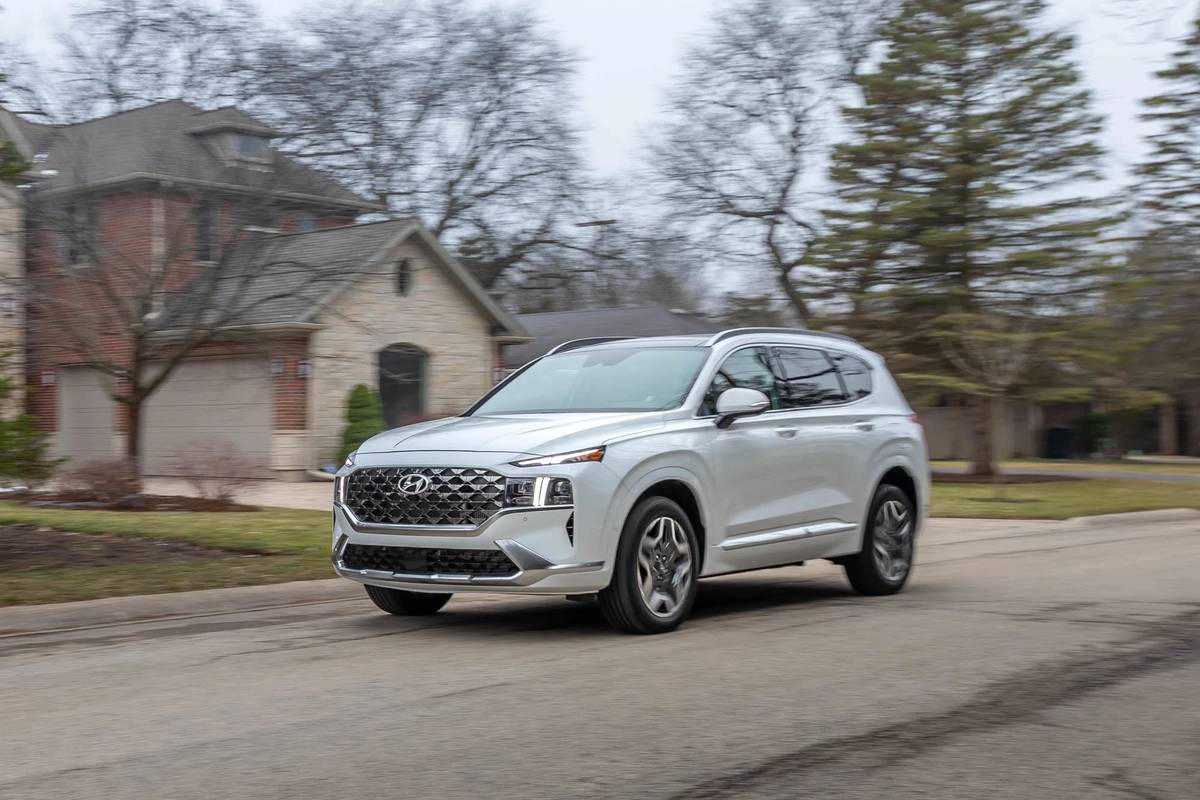 The verdict: A new optional powertrain fixes the most significant weakness in the otherwise well-rounded Santa Fe.
Versus the competition: Even with a new top trim level, called Calligraphy, the most expensive Santa Fe is still more affordable than most of its rivals' high-end offerings — and a great value in terms of features for the money. And now it can be fun to drive, too? Rude.
Though it feels like ages ago, it hasn't been two years since we last compared mid-size five-seat SUVs. In that test, the previous generation of the Hyundai Santa Fe eked out a victory by a single point. It was the lowest-priced vehicle in our test by more than $4,000, and it used its combination of value, straightforward and useful tech, and a well-appointed interior to grab the title. All those are still strengths in the new Santa Fe.
The only thing holding the Santa Fe back was its optional turbocharged 2.0-liter four-cylinder engine and eight-speed automatic transmission. The engine produced only modest power, and the transmission seemed dead set against letting anyone use what power it had. The judges — of whom I was one — all preferred to drive other SUVs in the test when we had a choice. Despite its win, our conclusion was that "we'd like to see the 2.0T powertrain improved."
"Hyundai can do better," we said then, "and should."
And, boy, did they.
Challenge Accepted
As part of the Santa Fe's updates for 2021, Hyundai gave it three new powertrains. The new standard engine is a 2.5-liter four-cylinder (replacing a 2.4-liter four-pot), and there's a new Santa Fe Hybrid, as well. The vehicle we tested, however, had the cream-of-the crop setup: A turbocharged 2.5-liter four-cylinder that ditches the traditional torque-converter eight-speed automatic transmission for an eight-speed wet dual-clutch automatic.
The 2.5 turbo (replacing the 2.0 turbo) makes 281 horsepower and 311 pounds-feet of torque — increases of 46 hp and 51 pounds-feet. It's paired with the new dual-clutch transmission, which shifts smartly through gears and is not only willing but happy to downshift. The most powerful Santa Fe is now … quick — almost unnervingly so. Not because it will blow away supercars off the line — though it will win more stoplight drag races than you might expect — but because it's such a radical departure from the experience of the previous, frustrating Santa Fe turbo. Power delivery is swift and linear, and passing power is always readily available.
But wait, there's more! Surely a larger displacement engine with significantly more power would come with a gas mileage penalty, right? It doesn't, at least according to the EPA. An all-wheel-drive 2021 Santa Fe with the 2.5 turbo is rated 21/28/24 mpg city/highway/combined, while an AWD 2020 Santa Fe powered by the 2.0-liter turbo managed a rating of only 20/26/22 mpg. Your mileage may vary, literally, particularly if you frequently indulge in the Santa Fe's Sport driving mode and bury the accelerator pedal into the floor, but it's capable of better fuel economy than the previous powertrain.
Our only quibbles with the new Santa Fe's driving experience are that the dual-clutch transmission can still feel a little herky-jerky during very low-speed driving, and that, of all things, the ride and handling don't quite match the powertrain's performance. Ride and handling with my vehicle's 19-inch wheels weren't bad by any stretch, but nor were they quite up to spirited driving. We also noticed a bit of jitteriness at highway speeds. Upgrading to the optional 20-inch wheels for an extra $200 might exacerbate some of these issues. Still, if Hyundai wanted to throw some performance tires on the Santa Fe and retune the suspension, a Santa Fe N Line or full N version might give the Ford Edge ST a run for the "Why Does This Exist?" performance SUV title.
Does 'Calligraphy' Write Checks the Interior Can't Cash?
The 2021 model year also sees the introduction of the Calligraphy trim level to the Santa Fe lineup, slotting above the Limited as the nicest Santa Fe you can get. Inside, Calligraphy brings quilted Nappa leather upholstery on the seats, a headliner made of imitation suede (called "eco-suede"), a full-color head-up display and some extra interior niceties. Updated but still good is the Santa Fe's straightforward touchscreen interface. It has intuitive physical controls, solid outward visibility, and wired Apple CarPlay and Android Auto connectivity. The lower S and SEL trims have smaller touchscreens and wireless versions of both, though the SEL can be "upgraded" to a wired experience along with the larger touchscreen.
The Calligraphy interior definitely gets closer to a premium level, though the Santa Fe's cousin, the Kia Sorento, does a better job. The large plastic trim pieces I complained about in the previous generation's door panels are still present and I still find them aggravating. Overall, the Calligraphy feels nice enough to be worth the price premium over the Limited — $1,800 to $2,000 depending on wheel size — but it isn't nice enough to trick you into thinking it's a luxury vehicle.
It's also worth noting that despite the Santa Fe Calligraphy being a Hyundai with Nappa leather, no one who drove it complained of the foul odors that plagued our long-term Palisade's interior. It should also be noted that I was in the "either it doesn't bother me or I'm noseblind" camp when it came to that smell, but hopefully this means Hyundai has worked out the issues.
Is the Santa Fe a Palisade Alternative?
Besides the Calligraphy trim, every 2021 Santa Fe gets a new interior design that makes it feel like a smaller, two-row Palisade. It has a larger, taller and more angular center console design with ample storage underneath, topped by an 8- or 10.25-inch touchscreen above a push-button gear selector. I found that the wide console cut into my leg space a bit while driving, but your legs and seating position may produce a different result. In the backseat, I had copious amounts of headroom and legroom, even though the backseat only reclines and doesn't slide. Cargo room is also impressive thanks in part to the lack of a third row, and though Hyundai provides only a tire repair kit instead of a spare, it makes up for it by having significant underfloor storage space.
So, given the Santa Fe now looks like a Palisade on the inside, is it a two-row alternative? We've already discussed how the Santa Fe and Palisade's cousins, the Kia Sorento and Telluride, step on each other's toes, but I think the Hyundais do a better job of avoiding that problem.
For starters, the Santa Fe isn't available with a third row. If you want to seat more than five people in a Hyundai, your only choice right now is the Palisade. And while the Santa Fe's cargo space is nothing to sneeze at, the Palisade has it beat, both by Hyundai's measurements and our own; Hyundai cites 45.8 cubic feet behind the Palisade's second row to the Santa Fe's 36.4. The Palisade also has a towing capacity advantage, maxing out at 5,000 pounds versus the Santa Fe's 3,500 max.
Our measurements didn't reflect as great a difference as Hyundai's, but the Palisade still has the advantage. We developed our system to eliminate inconsistencies in the ways trunks and hatchbacks are reported, and to erase troubling differences we've observed between brands. Our numbers typically render specs that are lower for hatches (measured only to the top of the rear seatbacks) and higher for trunks when compared with manufacturer data. We measured the Santa Fe's volume behind the second row at 25.3 cubic feet, roughly 1 cubic foot less than the Palisade. For comparison, we measured the same space in a 2021 Sorento at 22.1 cubic feet. 
Among Hyundai's competitors, a five-seat 2021 Toyota Venza had 15.5 cubic feet, the five-seat Toyota RAV4 Hybrid had 20.7 cubic feet, and a three-row Toyota Highlander had 24.0 cubic feet behind its second row.
One clear advantage for the Santa Fe over the Palisade is its fuel economy: The 2.5-liter turbo is rated 3 mpg combined higher than the Palisade's naturally aspirated 3.8-liter V-6. Another is price: The Santa Fe costs more than $5,000 — sometimes $6,000 — less than a virtually identical Palisade. The Santa Fe's 2.5 turbo is also torquier, with 49 more pounds-feet to work with in a lighter vehicle than the Palisade.
The Santa Fe may poach a Palisade sale here or there, but only among shoppers who aren't set on having three rows of seating. The two vehicles are different enough that most shoppers won't consider both, unlike the three-row Kias.
Safety Updates
As of this writing, the 2021 Santa Fe has yet to be fully rated by either the Insurance Institute for Highway Safety or the National Highway Traffic Safety Administration; you'll find IIHS results here and NHTSA results here if/when testing takes place at a later date. The Santa Fe had solid child-safety seat scores in our Car Seat Check.
New safety features for 2021 include Hyundai's hands-on semi-autonomous Highway Drive Assist, cyclist and junction-turning detection for the forward automatic emergency braking system, new rear low-speed automatic emergency braking, lane-following assist and curve-adaptive cruise control.
My favorite safety feature, however, remains a blind-spot view monitor that activates when the turn signal is engaged and displays a real-time image of what's in either of the Santa Fe's blind spots in one of two areas on the 12.3-inch digital instrument panel, which comes standard on the Calligraphy and Limited and is available on the SEL. The feature is incredibly useful, and I appreciate that the image is displayed on the side of the screen that corresponds to the turn indicator being used.
Pricier, but Still a Value Leader
Despite being the new highest trim of the Santa Fe, the Calligraphy still feels like a relative bargain. With 19-inch wheels, the Calligraphy is only $2,000 more than a Santa Fe Limited before options. With $300 Quartz White paint and $185 carpeted floormats, plus a destination fee of $1,175, our test vehicle came out to $43,730. That's a solid chunk of change, and definitely a departure from the previous generation's ability to be fully loaded for under $40,000.
That price, however, would still be the lowest as-tested price in our 2-year-old mid-size SUV comparison test. Since that time, top trims of the Nissan Murano and Honda Passport have both risen in price, while the Ford Edge costs a bit less but also comes with fewer standard features.
The last time we compared this class of vehicles, the Santa Fe narrowly won in spite of itself. With significant improvements to its optional turbocharged powertrain and an even nicer interior, the new generation of Santa Fe looks poised to sit atop the group a bit longer.
Related Video: What's the Best Mid-Size SUV for 2019?
More From Cars.com:
2021 Hyundai Santa Fe Adds Class, Sass to Family SUV
How Much Does the 2021 Hyundai Santa Fe Cost?
2021 Hyundai Santa Fe Hybrid Puts a Premium Cost on Being Green
Compare the Hyundai Santa Fe, Palisade and Tucson
Cars.com's Editorial department is your source for automotive news and reviews. In line with Cars.com's long-standing ethics policy, editors and reviewers don't accept gifts or free trips from automakers. The Editorial department is independent of Cars.com's advertising, sales and sponsored content departments.
Source: Read Full Article