2021 Ford F-150 Review: Keeping the Champion in Top Condition
The verdict: Ford's F-150 only continues to get better with every new generation, with the 2021 model featuring a slick hybrid-electric powertrain option and some genuinely useful new tech.
Versus the competition: It's the leader for a reason — the balance of capability, comfort, reliability and feature content has put it on top. Ford's fanatical attention to delivering unique, innovative new features that are more useful than gimmicky continue to keep it there.
It's a great day for America, everybody, because there's a new Ford F-150 in town. It isn't every day that Ford updates its breadwinner, the bestselling vehicle in America, but the 2021 model year is here and with it comes a significantly revised F-Series light-duty pickup truck. Ford has made meaningful updates to the popular truck, adding some new technological innovations that are genuinely useful, not just gimmicky. There's a new gas-electric hybrid powertrain, an all-new interior, three levels of built-in generator, new exterior styling — lots to talk about, for sure. But have the changes to the Ford F-150 improved it over the past model, made it more competitive versus redesigned trucks from Ram and Chevrolet, and generally been worth the cost and effort? Let's find out.
Related: 2021 Ford F-150: America's Favorite Vehicle Gets an Upgrade
An All-New, Yet Still Familiar Face
Much of Ford's mantra for an F-150 update has always been: If it ain't broke, don't fix it. The notable deviation from that happened with the previous generation, when Ford went to an all-aluminum-alloy body and structure on a steel chassis. The aluminum-intensive construction is retained for 2021, but the look has been modified a bit. It isn't easy to spot, but there are a few cues — most notably in the front end, where the popular C-channel LED running lights now extend down into the front bumper. There are a bunch of new grilles, as well, meant to differentiate between the six different trim levels, but only the most die-hard fans will memorize which grille goes with what trim. The rest of the body is also new even if it doesn't seem so at first glance: The hood is lower and at a different angle than the outgoing model, the body sides get integrated wheel arch flares, and there are new taillights and tailgate designs. You can still get it in three different cab styles (regular, extended and crew cab) with three bed lengths. The overall look isn't as dramatic a departure as Chevy saw with its latest Silverado and doesn't even feel as dramatic as the latest Ram's update. Instead, Ford keeps the styling much as it has been: attractive, clean, distinctive and freshened just enough to keep customers happily coming back for more.
A Richer Looking Interior
Step inside and you'll see that Ford has made some meaningful improvements to the F-150's interior styling. It's a more dramatic change than the exterior styling and takes a more industrial chic design aesthetic to heart, with simulated-metal trim in some models that looks extraordinarily real. The dash now features a "twin racetrack" design, with one hoop encircling the instrument panel width-wise, and another encompassing the center console and multimedia system. Various trim levels have varying degrees of leather, fabric, metal (both real and fake) and wood, but all of them look considerably upgraded from previous efforts. Of note is the move away from "animal grain" pattern on the dash and doors — no more vinyl simulating the look of skin, which you probably didn't even realize was a thing until someone pointed it out.
Is the new interior good enough to unseat the Ram 1500 as our benchmark for truck interiors? Almost. The big difference here is that while the F-150 interior looks considerably better, the illusion fades once you start touching and tapping things. The hollow feeling of the previous model continues on in the new interior; Ford hasn't quite nailed the tactile sensation of a high-quality interior in its pickups. Tap anywhere in a Ram interior and it feels solid, chunky, robust; tap around in the F-150 interior and it feels thin, seamed and snapped together instead of solidly screwed together. It's a subtle difference, but it does hold the Ford back from stealing the Ram's top spot.
There are few complaints about the new interior technology, however, with a beautiful optional digital gauge cluster and massive optional 12-inch touchscreen system, both of which are paragons of clarity and function. The latest Sync 4 multimedia system is yet another improvement on the last one, with big buttons, simplified menus and either a split-screen or full-screen configuration depending on the app. Sync 4 allows you to control a number of functions through the big central screen or through the FordPass mobile app. Of note are Zone Lighting, which allows you to project white light on the ground by any single side of the truck (or all of them), the Pro Power Onboard generator system, and the reconfigurability of both the central screen and the digital gauge cluster. One thing is oddly missing, however — a home button for the Sync system. There isn't a "main screen" for the multimedia system, a step backward from what most automakers do these days in transitioning in-vehicle systems to look more like personal portable electronics. So in the F-150, you'll always be switching between screens for various functions instead of having several on a general information menu, an odd omission I suspect Ford will rethink for future updates.
There are some other neat new features in the interior that show genuine innovation on Ford's part. The electronically folding shifter that lowers into the console to allow for a flat table to open from the armrest is nifty, and I can see this being used often, from contractors needing a laptop surface to road trippers needing a McDonald's tray table. The fold-flat seats are another matter: Hold the seatback recline button for a few seconds (after you've manually folded up the backseat so it doesn't interfere), and the front seatbacks go nearly horizontal, with the seat bottoms raising themselves to create a bedlike platform. But they're not exactly comfortable as a bed, being rather short and firm with no support for your legs. I struggled to find a position on them in which I'd want to nap for any length of time.
The rest of the cabin is as Ford has always made it: comfortable, spacious, well laid out and full of useful storage, cubbies, bins and lockers. The view out is expansive thanks to the drop-down cutouts in the front windowsills, a low hood and tall windows all around. The seats are comfortable, with plenty of room for five in the crew-cab models I drove. All in all, the interior improvements are both functional and innovative, and will provide actual utility to owners who decide to splurge on the fancier options. 
Let's Talk About That New Hybrid
There are now six powertrain choices for the F-150, starting with a standard 290-horsepower, 3.3-liter V-6; a 325-hp, turbocharged 2.7-liter V-6; a 250-hp, turbo-diesel 3.0-liter V-6; a 400-hp, 5.0-liter V-8; a 400-hp, turbo 3.5-liter V-6; and the new 430-system-hp, turbo 3.5-liter V-6 hybrid. Driving the traditionally powered F-150s isn't all that different from driving prior versions as not too much has changed mechanically. The turbocharged V-6 models are quick and powerful; the V-8 has a ton of low-end torque and a surprisingly eager throttle; and the diesel is still smooth and torquey. It's the hybrid that's the big news here.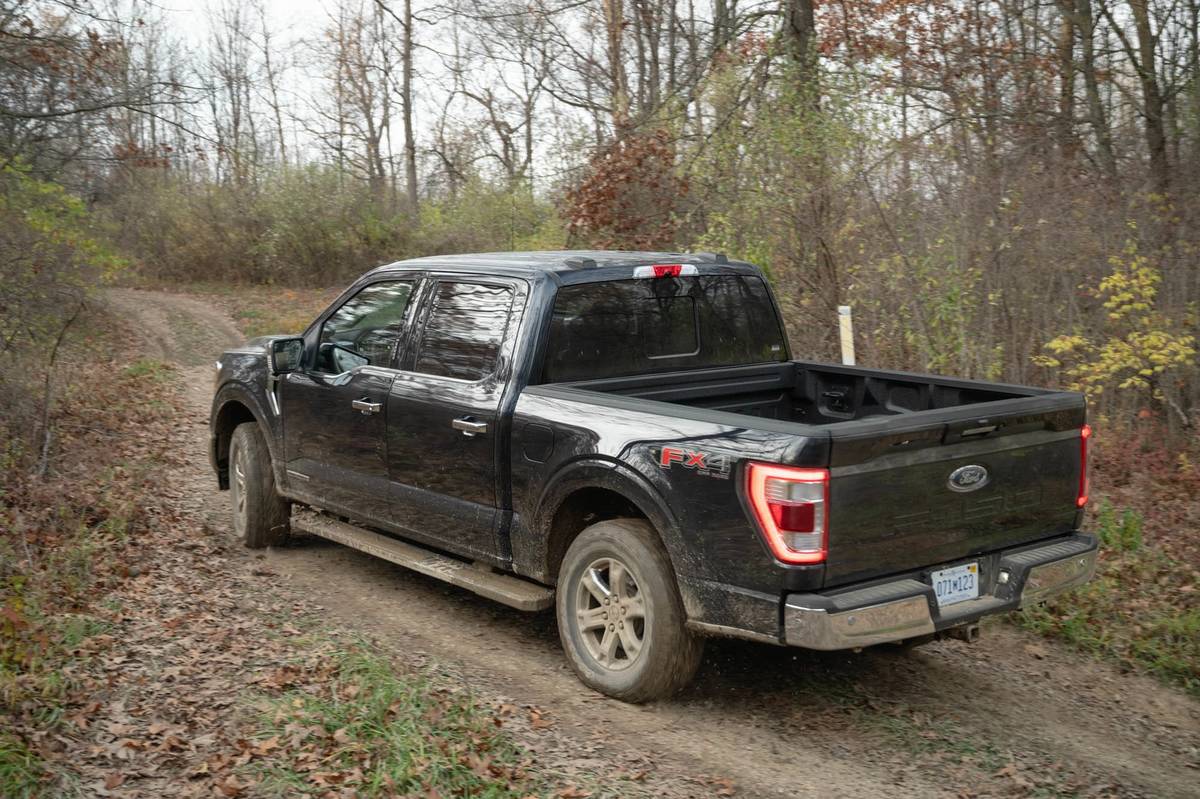 There have been other hybrid full-size pickups before (GM had trucks with two-mode hybrid drivetrains more than a decade ago), but none quite as well integrated and fully fleshed out as the Ford PowerBoost system. The difference comes in the transmission, which is still a 10-speed automatic like the rest of the F-150 lineup, but with an integrated 47-hp electric motor to boost its performance. There's also a 1.5-kilowatt-hour lithium-ion battery on board, sandwiched between the frame rails below the passenger compartment load floor, that enables the hybrid-powered F-150 to drive in full electric mode at speeds up to 45 mph. On top of all this, the hybrid powertrain comes with the new Pro Power Onboard generator system as standard, with an output of 2.4 kilowatts in base form, upgradeable to a whopping 7.2-kW version for some extra cash. More on that in a minute, though; right now we're more interested in how the new hybrid powertrain drives.
And it must be said, it drives quite well. One thing to keep in mind is that this is not a Toyota- or Honda-style hybrid, where you have a small four-cylinder engine mated to a continuously variable automatic transmission (or the equivalent, as some will say it's not technically a transmission, or at least not a CVT in the typical sense). Here, we have a powerful turbo V-6 bolted to a big 10-speed automatic with optional four-wheel drive included, as well. As such, the operation of an F-150 hybrid is not the same kind of super-smooth feel you'd get with a smaller vehicle. There's noticeable vibration when the engine kicks on and the truck transitions from electric to gasoline propulsion, and the transmission itself does seem to shift quite often. It's by no means jarring or unpleasant, just a little different from other hybrids I'm familiar with. Power delivery when you want it is plentiful, as the 3.5-liter V-6 was a powerhouse even before it got an electric assist. The most remarkable thing about the hybrid is how eager it is to stay in EV mode when it can — you can trundle down main street at 35 mph in complete silence powered only by electrons and even accelerate (very carefully) in full EV mode. Once you pass 40-45 mph, the gas engine will kick back in. In normal operation, you have to have a very light accelerator foot in order to keep it in electric mode, but it can be done, and the experience is pretty novel. 
More Than Just an Eco Poser
The interesting part about the hybrid option is that Ford is not treating it like a lifestyle truck. You can get the hybrid powertrain in any trim level of F-150, from the lowly XL up to the range-topping Limited. That makes it accessible as a work option, especially since it features the integrated Pro Power Onboard generator system. A stand-alone 2.0-kW generator system can be had on any gas-engine-equipped F-150 except the standard 3.3-liter V-6, but the basic hybrid system is a 2.4-kW system that can run a variety of equipment. Use it as a mobile movie theater and run a projector, loudspeakers and a popcorn machine all at the same time, or use it at a job site and run a miter saw, jackhammer or other electric tools out of the two 120-volt outlets in the bed. Or, upgrade to the 7.2-kW system and get a 240-volt, 30-amp circuit that can run the air conditioner on a camper trailer, be used as an emergency power source for home appliances, or on a work site to power a plasma cutter, chop saw, work lights and so much more — all at the same time. It's all easily controlled through a screen in the multimedia system and can even be run while the truck is being driven, meaning you can recharge batteries for tools or keep the air conditioner running on your camper while you're driving, letting you arrive at a destination with a chilled camper in the summer. It's a genuinely useful piece of very well-integrated equipment, and I predict it's going to be very, very popular.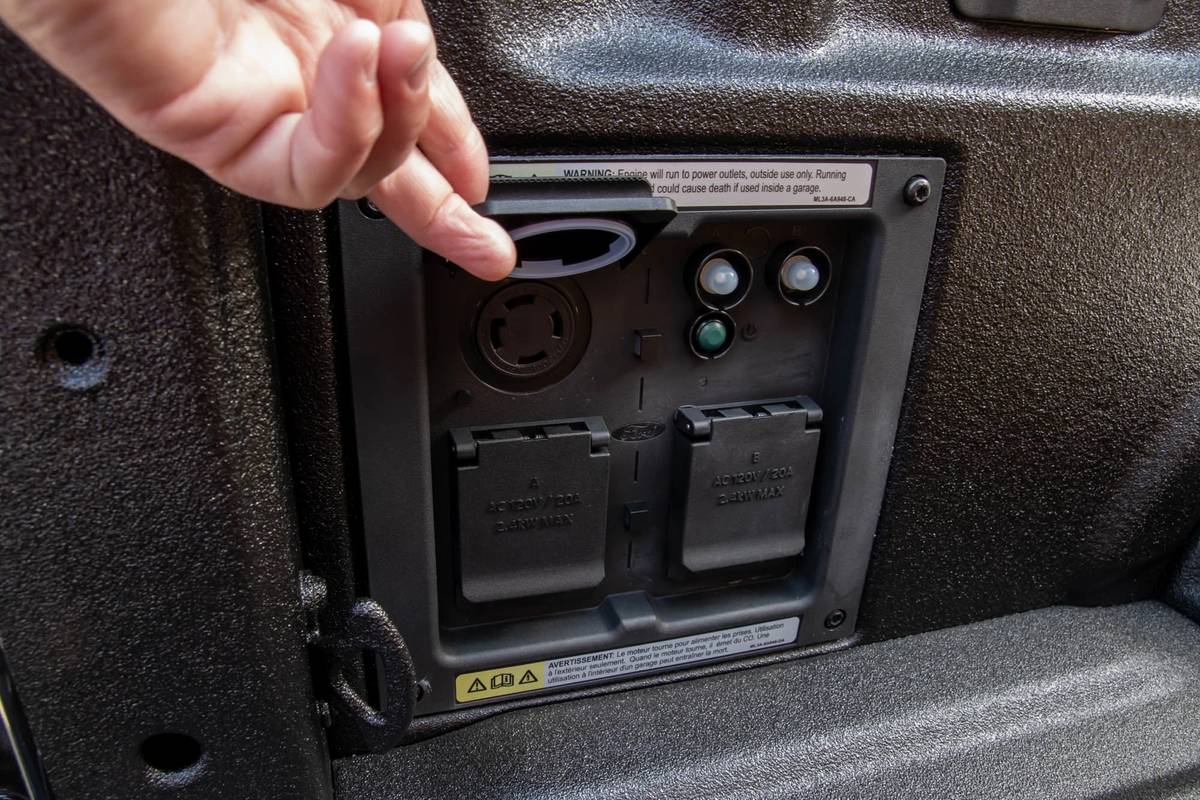 More From Cars.com and PickupTrucks.com:
2021 Ford F-150: America's Favorite Vehicle Gets an Upgrade
Redesigned 2021 Ford F-150 Offers Hybrid and Plenty of Power (Outlets)
Three Things We Like About the 2021 Ford F-150's Interior
2021 Ford F-150 Has the Right Features for the Right Time
We've Got 2021 Ford F-150 Power, Towing and Payload Specs
Research the 2021 Ford F-150
So it's useful, but how does the hybrid do for gas mileage? The new hybrid is rated at 24 mpg across the board, city/highway/combined, according to the EPA. I can't make a definitive statement without a much longer drive in one, but the 37 miles of rural straight-line roads I drove returned a trip computer reading that was spot on for that rating: 24.2 mpg. This rivals the official EPA rating for the 2020 F-150 4×4 Power Stroke light-duty diesel of 22 or 24 mpg combined, depending on which trim level you get (ratings for the 2021 diesel are not yet available). The highway rating for the 2020 4×4 diesel is superior — 25 to 28 mpg, again depending on trim. One suspects that an urban environment that has more stop-and-go traffic (where hybrids tend to do their most efficient work) would be more effective than my rural trip, but my careful and calm driving seemed to be the ticket. A conventional 3.5-liter-equipped 2021 F-150 4×4 is rated to get only 20 mpg combined, so it would seem that the benefit of the hybrid powertrain is real, at least from this brief spin.
And I'm happy to report that it also tows like a champ. Hybrid-equipped F-150 trucks are rated to have at least a 12,000-pound maximum tow rating according to Ford's preliminary numbers, and my drive of one through a hilly test track at Ford's Michigan Proving Grounds dragging a 7,000-pound camper trailer showed that the hybrid-equipped model performs just as well as the normal 3.5-liter EcoBoost truck. Towing up a 5-6% grade from a standstill was a snap, with the truck still providing plenty of acceleration on the grade, even under partial throttle. The big question eventually will be what kind of fuel economy the hybrid powertrain achieves while towing — our experience with the conventional EcoBoost powertrains while towing has shown them to be extremely thirsty when put under a load. A longer test should determine if electrification makes a difference here.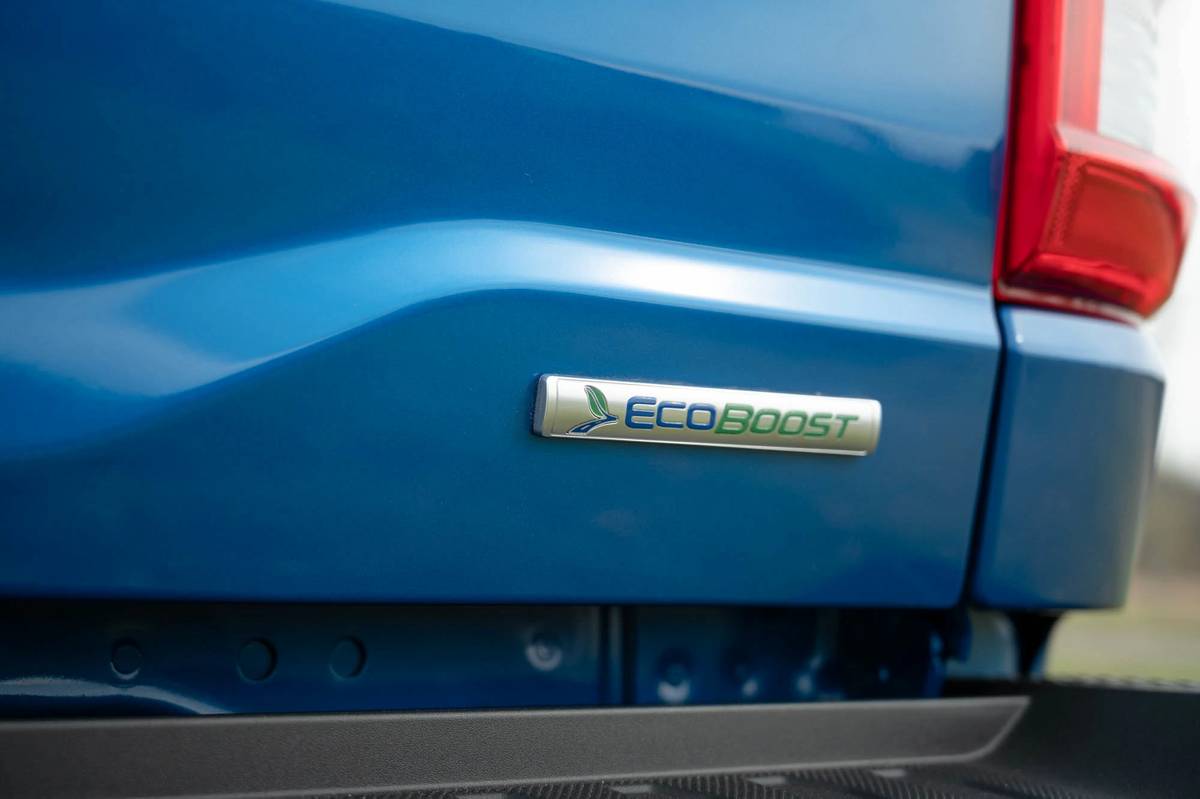 More Features, Still Expensive
Ford has added so many new features to the F-150, it's hard to go through them all. There's the novel new tailgate with built-in work features like F-clamp affixing pockets, built-in rulers and work surface, a bottle opener, even a stand for personal electronics. There's the optional electronic Active Drive Assist function that will let you take your hands off the wheel on specific premapped roads and highways, coming later in 2021 (trucks purchased before ADA availability will have the appropriate hardware that can be activated via an over-the-air software update). The truck's safety game has been upped, too, with automatic emergency braking with precollision and intersection assist, an automatic parking function, adaptive cruise control, automatic lane-centering, automatic evasive steering assist and more. There's towing technology, too, including Ford's novel Pro Trailer Backup Assist that lets you steer the truck and trailer with a knob, now featuring Trailer Reverse Guidance that even prompts you which way to turn that knob to go where you want. It starts to seem like gadget overload, but the thing is, all of it is genuinely useful in some way — none of it is gimmicky. 
As before, Ford likes to make an F-150 to fit most budgets, and is offering up six different trim levels and myriad special packages to help you find one. The least expensive offering is the XL, which can be had in a regular-cab, 6.5-foot-bed version for the least expensive price of $30,635 (all prices include a $1,695 destination fee). From there, you get an XLT starting at $36,745, Lariat at $46,890, King Ranch at $58,025, Platinum from $60,805 and the range-topping Limited ringing in at an eye-watering $72,520. These are all base prices of course — add options and the prices easily begin to climb. 
Yet despite the lofty sticker prices, Ford has no trouble finding buyers for massive numbers of F-150 pickups every year, and for good reason. Few other brands have such an intimate relationship with their customers, engendering fierce loyalty and repaying that loyalty with product improvements specifically aimed at answering owner requests for new and improved functions. In short, Ford listens to its owners and continues to deliver what they want in a truck. The new 2021 F-150 is a testament to that consistency.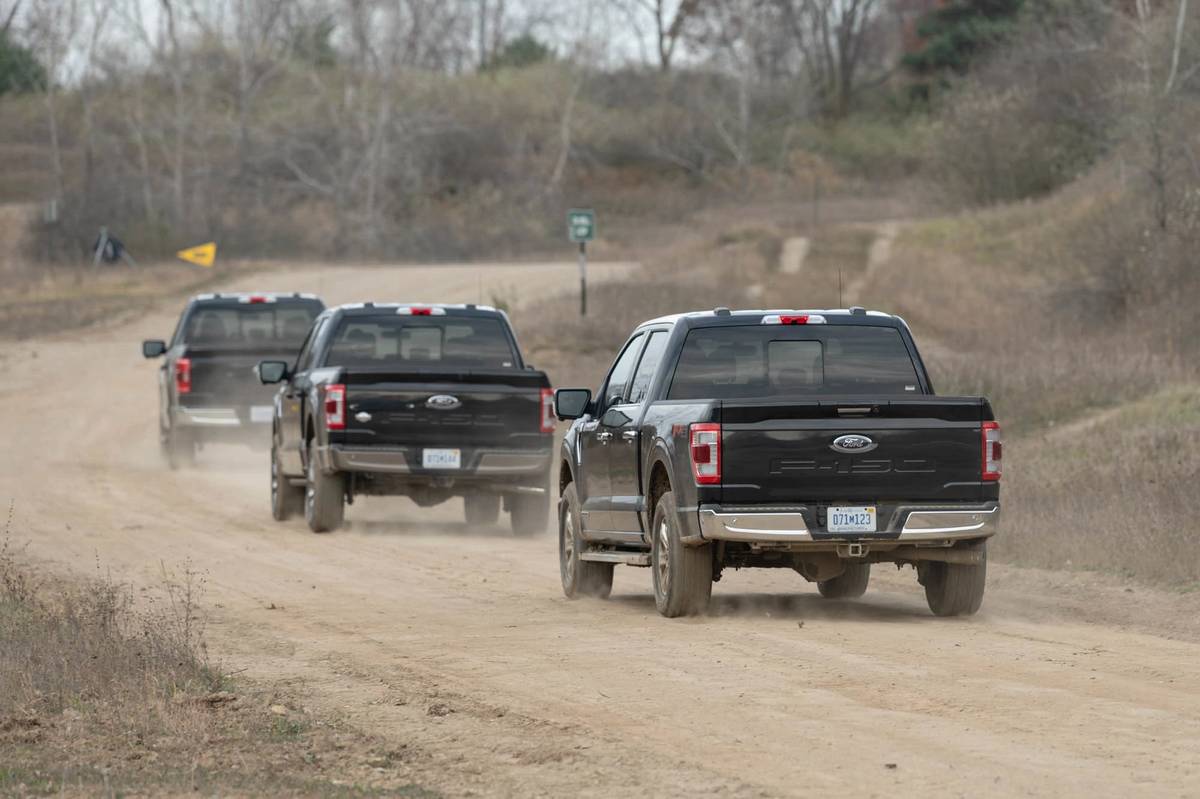 Cars.com's Editorial department is your source for automotive news and reviews. In line with Cars.com's long-standing ethics policy, editors and reviewers don't accept gifts or free trips from automakers. The Editorial department is independent of Cars.com's advertising, sales and sponsored content departments.
Source: Read Full Article