2021 Easter Jeep Safari: Jeep Unveils All-Electric Wrangler Magneto, Other Concepts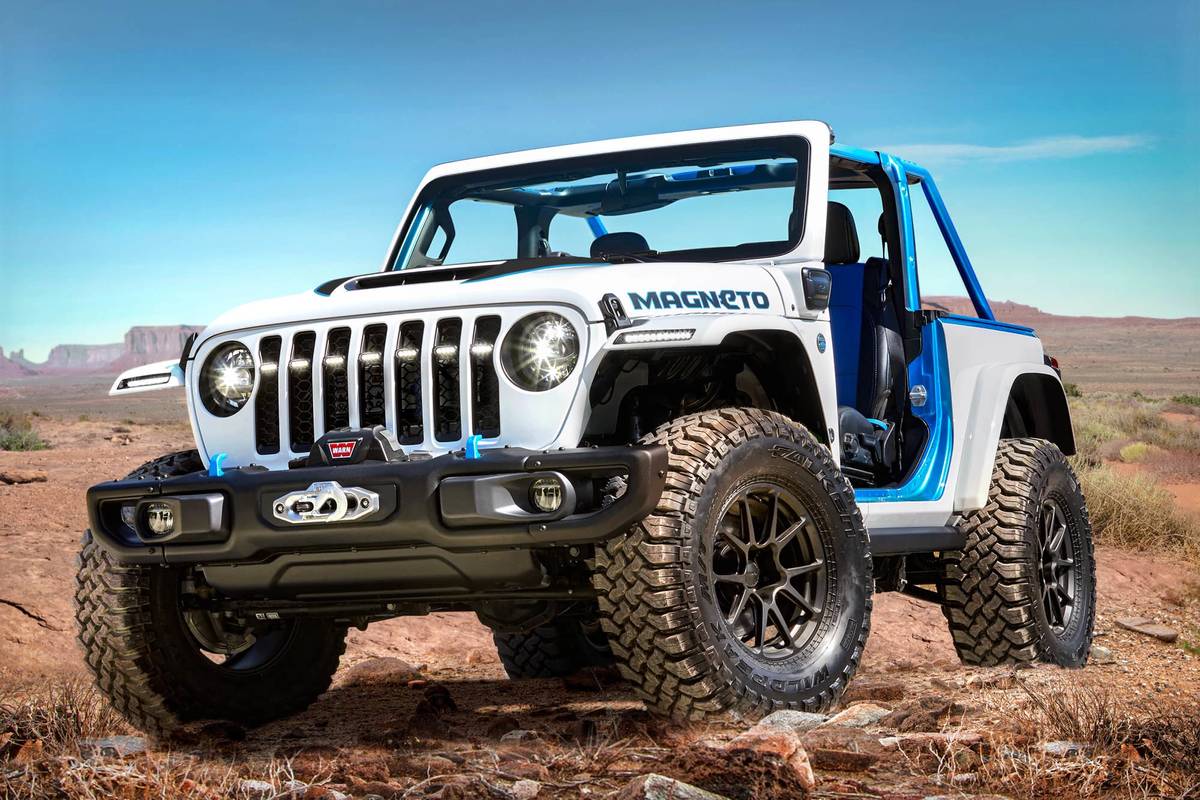 The annual Easter Jeep Safari is to four-wheelin' Jeep enthusiasts what the Sturgis rally is to Harley-Davidson motorcycle fans: an annual pilgrimage to the vehicle's natural environment for thousands of brand enthusiasts. It's also a great place Jeep has found to study those owners' desires and bounce new ideas off of them for upcoming models, trims, accessories and themes. The 2021 event is being held despite the ongoing pandemic, and Jeep will be there again with a raft of new concept vehicles and Mopar-accessorized demonstrator trucks to show off where the brand is going, what it's learning and what its most ardent fans think of its efforts.
Related: The 3 Most Awesome Off-Road Concepts for 2019 Easter Jeep Safari
Jeep Magneto: A Stick-Shift EV (Yes, Really)
Top billing this year goes to something momentous: a fully electric Wrangler called the Magneto concept. Built off of a two-door JL-platform Wrangler Rubicon, the Magneto comes across as still very much a development vehicle for Jeep. Jeep design chief Mark Allen was very clear, telling journalists in a video presentation unveiling the Magneto "is a retrofit study, not a clean-sheet redesign." The brand has replaced the Wrangler's standard 3.6-liter Pentastar V-6 and fuel system with an axial-flux electric motor that can spin up to 6,000 rpm and that still mounts up to the six-speed manual transmission that the Wrangler came with. Four Webasto battery packs have been fitted inside custom milled aluminum housings: one over the motor, one behind the rear axle and two sandwiched between the axles where the fuel tank once sat. Combined, it's a 70-kilowatt-hour, 800-volt lithium-ion pack, but two 12-volt batteries are also employed to power ancillary systems like lights, a winch and heater. 
With the exception of the removal of the gas engine, the rest of the Rubicon drivetrain has been left untouched — it uses the same Dana 44 front and rear axles and the same two-speed Rock-Trac transfer case, so it retains the Rubicon's super-low crawl ratio as a result. The electric motor has been tuned to produce the same power output as the V-6: 285 horsepower and 273 pounds-feet of torque, so the rest of the drivetrain needed no alteration.
Some effort has been made to remove weight from the Magneto, so it has no doors, roof or backseat, but even with these measures, the two-door Wrangler tips the scales at a hefty 5,750 pounds, approximately 1,500 pounds more than a standard manual-equipped two-door V-6 Rubicon. Despite this portliness, the Magneto can go from 0-60 mph in 6.8 seconds, according to Jeep. 
Allen offered up what it's like to drive the Magneto off-road: "It's a total rock crawler, thanks to that electric motor," he said. "You use the clutch to put it into 1st gear and you don't have to hold the clutch in, as the motor isn't idling, so you can't stall it. Then it's just application of throttle. You can go super-slow using all that torque at near-zero rpm." 
The clutch is then used while moving when you're shifting gears, but Allen insisted that the curious setup combines the best of both an automatic transmission's possible two-foot driving strategy when driving off-road and the minute control of a manual gearbox. 
"As an example, it can move about 5 feet in one minute," Allen said, a useful pace for extreme rock crawling. 
Clearly, the Magneto is still very much a development-level test mule, and Jeep said it's eager to get it out to Moab to see both how it handles such environments and also get a sense of what the Jeep-buying public thinks of a pure-electric Wrangler. No production plans were announced, but Jeep will soon offer its first electrified Wrangler in the form of the Wrangler 4xe, a plug-in hybrid model set to enter production this year.
The Other Concepts
Unlike previous years, where Jeep would field a bunch of new off-the-wall concepts, this year's EJS activities are clearly scaled back just a bit. A few other concepts will also end up in Moab:
Jeepster Beach
This year's resto-mod concept is the Jeepster Beach, a restored and modified 1968 Jeepster Commando that features original-style bodywork over a fully modern Wrangler JL chassis and powertrain. The Tequila Gold paint is complemented by a stunning ivory and red interior. The Jeepster Beach features the Wrangler's available turbocharged 2.0-liter four-cylinder engine, but it's been tweaked by SRT engineers to boost power and torque "by 25% each," according to Jeep. 
Red Bare Gladiator Rubicon
A Red Bare is a Gladiator pickup truck with Jeep's new turbo-diesel 3.0-liter V-6, 37-inch tires on 17-inch beadlock wheels, Dana 44 axles with a 4.88:1 gear for a super-low 91:1 crawl ratio, a Warn winch and guard on the steel front bumper, Jeep's new Mopar half-doors and a relocated spare tire now mounted in the bed floor with a steel deck above it, capped off by a body-colored sport bar. 
Farout
A follow-up to the 2019 Easter Jeep Safari Gladiator Wayout concept, the Farout continues the overlanding theme with a four-person AT Overland Equipment Habitat Truck Topper tent mounted to the roof rack. It also gets the diesel 3.0-liter V-6, which should deliver more than 400 miles of range, plus 37-inch tires on 17-inch beadlock wheels, and a bed done up in orange bedliner with a slide-out camping stove and Dometic refrigerator-freezer unit. It's painted Earl, a gray hue Jeep soon plans to introduce for the Gladiator.
Mopar Specials
Beyond the official concepts that Jeep brings to EJS, it also likes to tote along some demonstrator vehicles outfitted by Mopar, the parts and accessories division for Jeep and its fellow Stellantis brands. That allows Mopar to show off new and interesting stuff from its Jeep Performance Parts line. This year, two vehicles will make the trip:
Top Dog
A Gladiator pickup made for the extreme mountain biker who likes to go really far into the bush, the Top Dog features special K-9 Blue paint, JPP wheels with 37-inch tires, a winch bumper, grille guard, 5-inch LED accessory lights, rock rails and a roof storage rack, all from the JPP catalog. Jeep replaced the bed with a PCOR storage unit that houses a Dometic refrigerator and a fake Snap-On toolbox that actually hides a commercial hot dog-rolling cooker.
Orange Peelz
This orange two-tone Wrangler features some steel concept-style fenders, a 2-inch lift, 37-inch tires, a customer two-piece fused Freedom Top hard top with a glass overhead insert, a cat-back exhaust, unique seat covers, Mopar's new half-doors and a Gorilla Glass windshield that's lighter and more chip-resistant than standard automotive glass. 
More From Cars.com:
A Whisper in the Woods: Jeep Details the 2021 Wrangler 4xe Plug-In Hybrid
2021 Jeep Wrangler Rubicon 392: Jeep's Really Building Another V-8 Wrangler
2022 Jeep Wagoneer, Grand Wagoneer: Jeep Goes Big, Luxurious
What's New With SUVs for 2021?
What Is Stellantis?
Related Video: 2021 Jeep Wrangler 4xe: First Impressions
Cars.com's Editorial department is your source for automotive news and reviews. In line with Cars.com's long-standing ethics policy, editors and reviewers don't accept gifts or free trips from automakers. The Editorial department is independent of Cars.com's advertising, sales and sponsored content departments.
Source: Read Full Article