2021 BMW 530e Range: How Far Can It Go on Electricity Alone?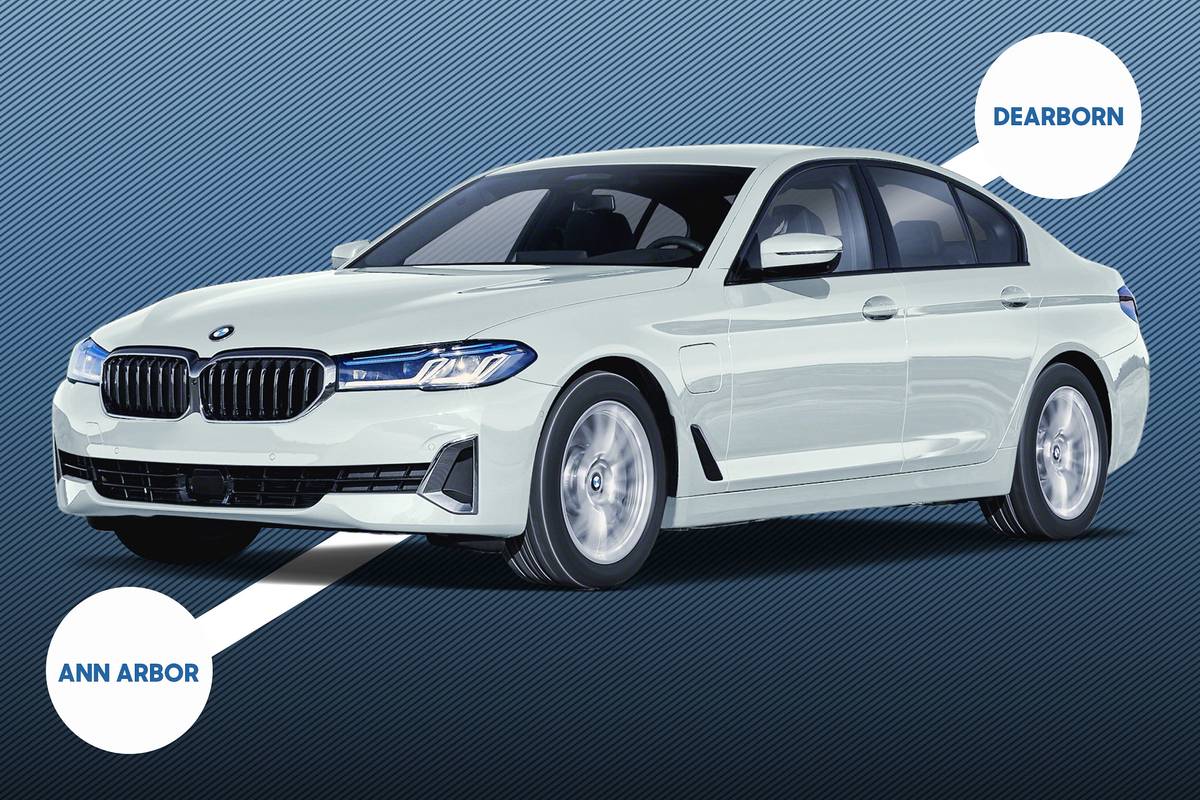 European plug-in hybrid vehicles like the 2021 BMW 530e tend to have a pretty specific purpose in mind: They're meant to allow drivers to enter European cities that have congestion charges without being charged. Some cities like London or Antwerp charge drivers to enter the city centers in a car, but that charge is lessened or waived if your car is a zero-emissions vehicle. Until pure EVs gain traction among the wider populace, we'll get vehicles like this one: the 2021 BMW 530e. It features a bigger battery pack than a traditional hybrid that allows it to be recharged from a ground-side charger, enabling the 530e to travel on electricity alone up to 21 miles, according to the EPA, and a total range of up to 340 miles before a refill of the gas tank is required.
For 2021, the 530e received powertrain updates providing more power and performance, but our curiosity centered around its EV capabilities. How far can it go on electric power alone before the gas engine kicks in? 
Related: 2021 BMW 5 Series Is Feeling Refreshed
The Ride
BMW updated the 2021 530e along with the rest of the 5 Series lineup. The plug-in hybrid gets a boost to its overall combined power resulting in quicker 0-60-mph times, according to BMW. It's powered by a turbocharged 181-horsepower, 2.0-liter gasoline engine augmented by a 107-hp electric motor that's been integrated with the standard eight-speed automatic transmission. The combined output is rated at 288 hp and 310 pounds-feet of torque, an increase of 40 hp over previous 530e models. And when you switch the Driving Control switch into Sport mode, the new XtraBoost feature bumps that by another 40 hp for up to 10 seconds after you floor the accelerator. 
And lest you think that a 181-hp four-cylinder mated to an electric motor will probably make for tepid performance, know that BMW says the 530e can go from 0-60 mph in 5.7 seconds, which isn't shabby in the slightest for a mid-size performance sedan. This is all made possible by a 12-kilowatt-hour lithium-ion battery pack, a decent size for this car. Recharging can be accomplished via a 240-volt charger in about two to four hours, depending on how far it has been depleted. All-wheel drive is an option for the 530e, creating the 530e xDrive with 19 miles of EPA-rated EV range and 320 miles of overall range, but my test vehicle was the standard rear-drive model.
The Route
The path I take to test electric range on plug-in hybrid models doesn't vary — I go from Ann Arbor, Mich., to a fixed point in Dearborn, Mich., and back again. It's a mixed-speed route with a combination of urban stop-and-go driving and higher-speed, divided multilane boulevards. It's good for providing a variety of conditions, but speed limits are adhered to and acceleration and deceleration are always done at a moderate, easy pace — no stoplight drag races and no slamming on the brakes unless it's necessary. I also keep the climate control off, which can trigger the gasoline engine in some cars and drop electric range by a couple of miles right off the bat in others. With the tires filled to their manufacturer-recommended settings, off I went yet again.
The Results
Fully charged, the 530e predicted an EV range of 19 miles. This is largely determined from what the car has seen in terms of driving behavior from prior drivers — it extrapolates based on that behavior what you're likely to expect over the next few miles. Well, I was able to get a bit better than 19 miles — and significantly better than the rated 21 miles. Shifting the car into its electric-only mode, I was able to hit 28.4 miles in the 530e in mixed driving conditions before the gasoline engine popped on. It's an exceptional result for the car, and if you happen to have a commute that falls inside that range, it's conceivable that you could use the 530e in electric mode the majority of the time, employing the gasoline engine for highway duty and extended range trips.
The nice part about the 530e is that it still looks, feels and drives like a BMW. The steering feel is excellent, the ride and handling balance is quintessentially German in its sporty-yet-compliant feel, and additional entertaining driving fun is just a button push away in Sport mode. The only iffy change to the 530e from a standard 5 Series is the regenerative braking. The 530e's brakes feel like typical hybrid car brakes: They work fine until the last few feet of a stop where they become numb and mushy, making smooth stops often tricky and causing some head-bobbing among occupants.
More From Cars.com:
BMW Charges Up Luxury Electric SUV Competition With 2022 iX
BMW Makes SiriusXM Standard on All 2021 Models
2021 BMW 4 Series Convertible Drops Its Cover, and Its (Soft) Top
2021 BMW M3 and M4: M Stands for Manual
What's New for BMW in 2021?
But in terms of equipment, style, interior quality, and all the other bells and whistles that you'd expect on a 5 Series sedan, the 530e delivers. The base price isn't even all that unreasonable: $58,195 for a very well-equipped FWD model. Additional options like $2,500 for white leather interior, $550 for Phytonic Blue Metallic paint and additional packages like the M Sport, Luxury Seating, Shadlowline, Driving Assistance, Parking Assistance and more boosted the price of my test car up to a rather unnecessary $70,495.
No American city has enacted a congestion charge scheme (yet), so the 530e's true intended purpose doesn't exactly fit with U.S. usage, but given its excellent observed EV range and  normal-feeling operation for most driving conditions, it would be an intriguing option to someone who isn't quite ready to fully dive into a pure EV like a Tesla Model 3.
Related Video: 2018 BMW 5 Series Review: First Impressions
Cars.com's Editorial department is your source for automotive news and reviews. In line with Cars.com's long-standing ethics policy, editors and reviewers don't accept gifts or free trips from automakers. The Editorial department is independent of Cars.com's advertising, sales and sponsored content departments.
Source: Read Full Article